I love a good subscription box, particularly the beauty ones, but over the years I've been very used to sticking with the likes of Glossybox and LOOKFANTASTIC purely for the low price point. This month however, I took the plunge and signed up to the Cohorted beauty subscription which is £39.99 per month – a big jump from the £13-£15 per month for other beauty boxes!
The difference? Cohorted is filled with premium beauty, skincare or haircare products by brands such as Nars, Laura Geller and Rodial. Although lower-priced beauty subscriptions have included products from some big, luxury beauty names, they're only ever minis. Cohorted on the other hand is filled with full-size products. If they were to include minis (as you'll see below), you'll find they're still packaged beautifully and come in a package that makes it worth the price you pay. So, let's see what's inside this month's box…
This month is an exclusive edit with Fresh. From what I've seen online before, some month's are exclusive edits with one brand (like this one), and others are a combination with an overarching theme.
I've heard of Fresh as a brand, but never tried any of their products before, so for the first Cohorted beauty subscription box for me to receive to be dedicated to the brand…well, it's a gamble. However, something tells me I'm going to love it.
The first thing I spot is the Fresh Rose Deep Hydration Face Cream (15ml). I love rose as a flavour and fragrance, so when infused into skincare, I'm very happy! It's formulated to deliver deep hydration through a thicker cream, but still being light enough in texture and finish to be worn under makeup.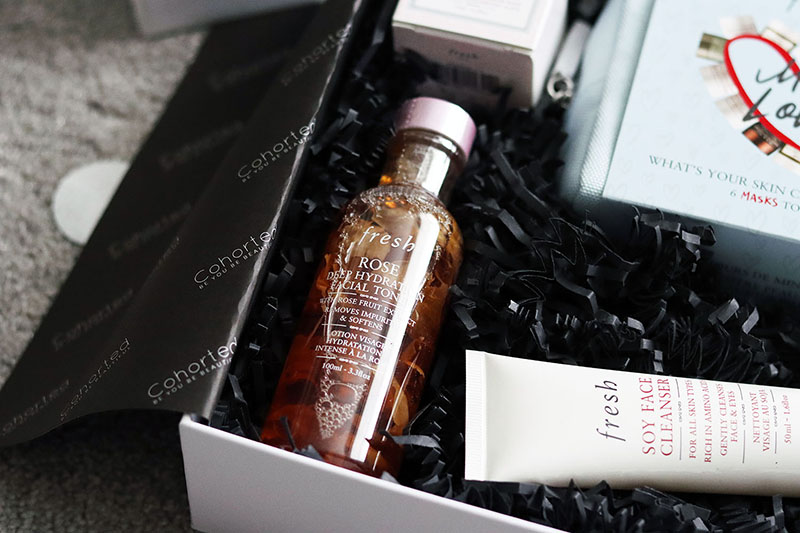 The next rose-scented product we have is the Fresh Rose Deep Hydration Facial Toner (100ml). This was the sneak peek product for this month's box; Cohorted don't spoil the surprise for each box, other than sharing one staple product as a tease. I don't have a toner in my current skincare routine, nor do I own a toner of any kind, so this will be easy enough to incorporate into my daily pampering.
Its purpose is to soften the skin and refine the appearance of pores for a health looking complexion. I'm already sold. I have large pores all across my t-zone which I'm very self-conscious of. Estee Lauder's Night Repair Serum is the only skincare product to date that has had any positive impact, as well as microdermabrasion facial treatments. So adding another pore-refining product into the mix is welcomed with both arms!
Next we have the Fresh Soy Face Cleanser (50ml) which is suitable for all skin types. I currently use the CeraVe SA Smoothing Cleanser which has worked very well for eliminating uneven skin texture I experience due to dry skin and hormonal acne. Although a hero product for me, I often wonder if my skin would benefit from switching it up for a couple weeks. I guess we'll see when I test this one out for a couple weeks!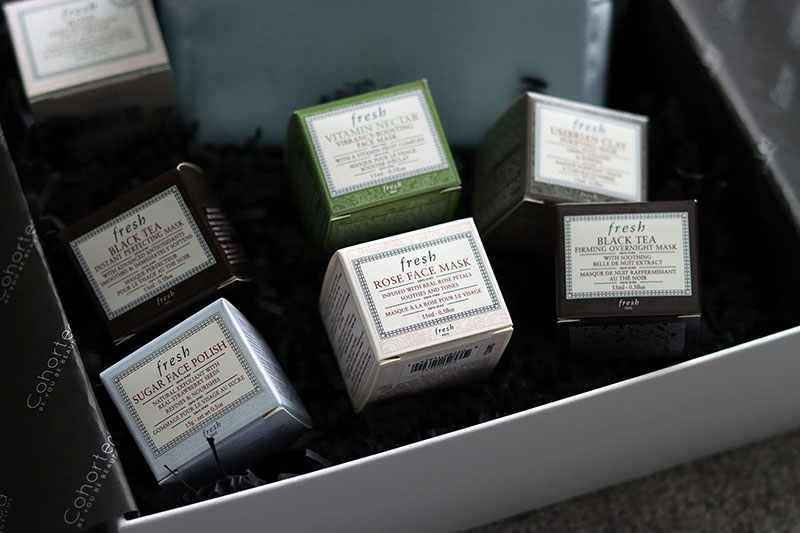 Last, but most certainly not least, we have the minis. This is a canvas bag filled with six mini face mask pots of all kinds. I don't use masks often, mainly because I do my evening skincare right before bed, so I don't want to be sitting down to leave the mask on for ten minutes to then get up again to wash it off – such a conundrum, right? I joke, of course. But seeing these minis, I can't wait to put the first one on. We have five mini face masks, and one face polish. They're each 15ml.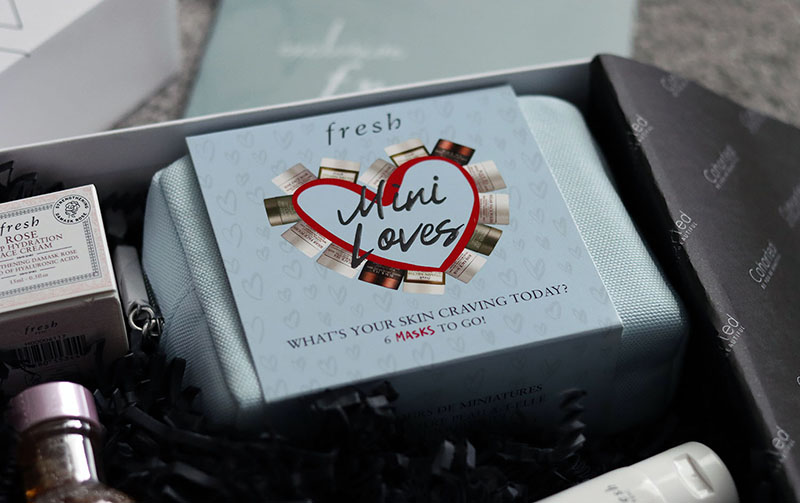 Want to give it a try for yourself? Sign up here and get 15% off your first order.