I don't celebrate Easter as a religious holiday, but I do enjoy the events that come with it: the four-day weekend, the chocolate eggs, the cute egg and rabbit decor, Easter baking, plus a lovely lamb roast. But this year I haven't even bought a chocolate egg yet (although the Cadbury Orange Twirl is tempting me). Instead, the limited edition Glossybox Easter Egg for 2022 has been far more enticing: the beautifully designed box and the fact you get eleven products; four full-size and seven deluxe minis. Mine is on its way in the next couple days, so for now, let's take a look inside…
Too Faced Diamond Light Highlighter in Fancy Pink
I love their Better Than Sex mascara, but I've never tried another product of theirs, so this will be exciting to try out. I'm a big highlighter fan and currently use the Maybelline FaceStudio Chrome Extreme Highlighter in Diamond Glow which, well, is quite extreme – a little sure does go a long way. But, I've been wondering whether to dip my toes into blusher lately, so maybe with this pink shade by Too Faced, it might act like a too in one?
Neal's Yard Remedies Wild Rose Hand Cream
I love hand cream and always have one on my desk to hand, but I also love rose as a fragrant (and flavouring), so this is right up my street!
Revolution Beauty Sheer Lip
There's two shades up for grabs: pink shade "Poise" or tan shade "Darling" – I hope I get the pink shade as tan just isn't for me and my complexion, but we shall see! This is apparently a buildable lip gloss: one application for a sheer gloss, or multiple coats for buildable colour – I like the sound of that.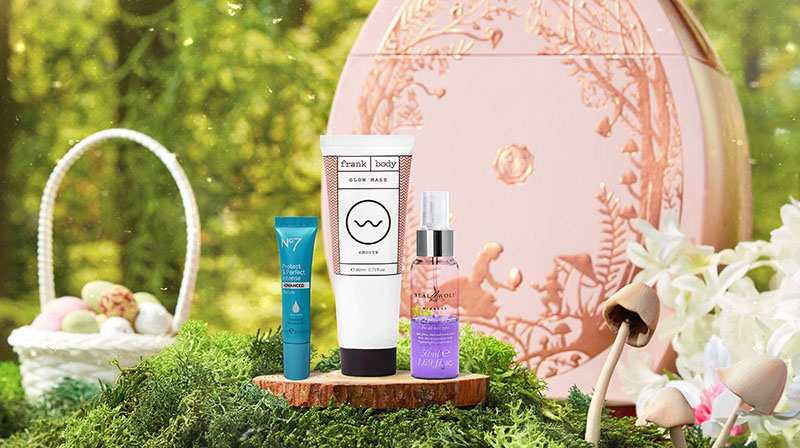 No7 Protect & Perfect Intense Advanced Serum
No7 foundation and pressed powder work nicely with my skin type, but it's not often I'd bother trying their skincare – it's difficult to steer away from your staple skincare products you know work so well! This is an anti-aging serum which, I may only be 29, but now's the time to be jumping on the anti-aging band wagon!
Frank Body Glow Mask
A brightening face mask? Count me in! Anything to get rid of my dull skin a glow in the morning.
Neal & Wolf Miracle Rapid Blow-Dry Mist
I have fairly thick hair and this claims to reduce the drying time when blow-drying your hair, so I'll accept anything that'll do just that and reduce frizz.
Jennifer Lopez ONE
It's a perfume, need I say more? I have more perfume than necessary, so one more won't hurt.
SACHAJUAN Hair Repair
I'm building up a small collection of mini hair repair products, as my hair is in dire need of it. It's been bleached several times and over the last year it's become quite brittle and incredibly dry and frizzy. So I need to lather these products on every night I think.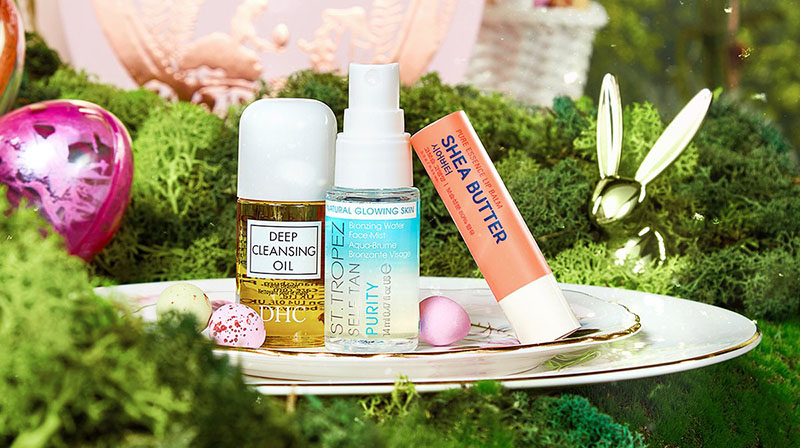 DHC Deep Cleansing Oil
I don't think I've used oil as a cleanser before. In fact, I didn't know one existed. I've heard of foaming cleansers, gels and balms, but an oil is new to me, so I'm curious how this sits on my skin after.
St Tropez Purity Bronzing Water Face Mist
I'll be honest, this one I'll be gifting to a friend or family as I'm not a tan-type of woman. I've tried to tan naturally as well as with products and sprays, but it just doesn't look right on me. I'll be pale-skinned forever.
Holika Holika Pure Essence Shea Butter Lip Balm
I always have a lip balm on the go – nothing fancy, just cheap balms at the ready, so it'll be nice to have a fancy balm in my handbag!
Have you bought the limited edition Glossybox Easter Egg? You can buy it here.