Is it just me, or do you also love pretty boxes filled to the brim with deluxe beauty products? I used to love subscribing to the likes of Glossybox or Birchbox for monthly surprises thinking, "I wonder what I'll get this month?". But since I stopped subscribing, simply because my interest in monthly subscriptions changed, I've loved purchasing pre-packed beauty boxes where I know exactly what I'm getting. My favourite of this type of beauty box has always been by the Estée Lauder Companies.
Their latest one is the With Love XO Beauty Box, filled with deluxe minis from some of their top brands including, MAC Cosmetics, Bobbi Brown, Clinique, Estée Lauder and more. This box is worth over £80 but on offer for £26. It's available to order from any of the brand's own websites. FYI, I ordered from Cinique and at the time they had 20% off and free delivery which arrived within three days of ordering. So, shall we see what's inside?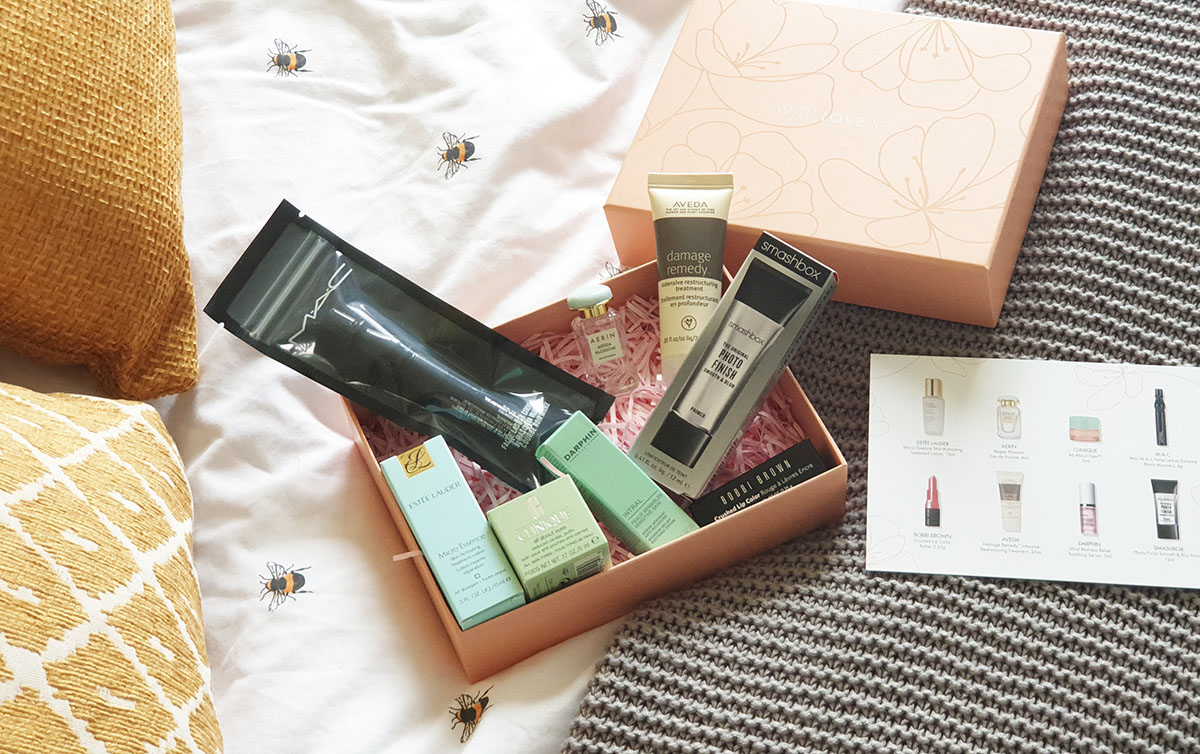 Clinique All About Eyes, 5ml
I've had mini's of this before and loved it, so even treated myself to the full size version last year and have only just got through it. I personally love Clinique's skincare products as I find they're one of the most hydrating ranges out there. Happy to have another mini to keep for my travels (when the world returns to 'normal').
AERIN Aegea Blossom Eau de Parfum, 4ml
Now this is what you call a perfume sample. It's ridiculously cute – I know, a perfume bottle being called cute *eye roll*. I hate sampling perfume from sachets you find in magazines or the flimsy test bottle that always breaks on me, so this is a nice surprise.
Estée Lauder Micro Essence Skin Activating Treatment Lotion, 15ml
Again, Estée Lauder is another premium brand I love when it comes to skincare. Their Advanced Night Repair range is one of the reasons lately my dry skin has vanished. I'm not familiar with the rest of their skincare products, so I'm looking forward to giving this one a try!
Shop the box
MAC Mini MAC False Lashes Extreme Black Mascara, 4g
When I ordered this box, I completely missed that a MAC product was included, so this was a nice surprise when I opened the box. I've only ever tried lipsticks from MAC, so no idea if their mascaras are any good. Do you recommend anything from MAC?
Bobbi Brown Crushed Lip Colour, Babe, 2.25g
Another mini beauty product I find cute is a mini lipstick, and it's all I seem to own right now. In fact, all mini lip products I currently own are Bobbi Brown! I have a few of their mini lip glosses which were in a Christmas Gift Set I was gifted that, then I also have a mini lipstick which is a shade or two darker than this one.
Aveda Damage Remedy Intensive Restructuring Treatment, 25ml
Since having my hair dyed blonde, it's been a struggle keeping it from breaking. My hair seems to fall out far more than before, it has become incredibly luggy and it constantly feels so dry. My John Freida Frizz-Ease can no longer help me either, and that used to be my go-to hair product! So I think this product has come at a good time to try and give my hair a fighting chance.
Darphin Intral Redness Relief Soothing Serum, 5ml
My skin is naturally very red around my nose and on my cheeks. That's why I've never bothered buying blushers, as even with a full-coverage foundation, my redness fights its way through. My current skincare routine seems to help reduce the redness, but over the years I have spent some money trying products which claim to minimise the redness or get rid of it completely, and none of it has delivered so far. So this is definitely a product I'm looking forward to trying.
Smashbox Photo Finish Smooth & Blue Primer, 12ml
Primer is not something that used to exist in my makeup draw, but after using a mini of this a couple years by, I was hooked. It made such a difference. It leaves such a nice velvety feel to the skin and has always worked well with any face products I've used – high end or budget.
Shop the post
Have you ordered the With Love XO Beauty Box?