Who doesn't love a good subscription box? I recently subscribed to the LOOKFANTASTIC monthly beauty box for just £10, with free delivery and a free mystery box too. Whilst I eagerly await for the monthly subscription box to arrive, I have this mystery box to enjoy in the meantime. So, what did I get inside the LOOKFANTASTIC Mystery Beauty Box?
Firstly, how did I secure a free mystery box as well as a discount on my first box? I simply added the LOOKFANTASTIC monthly beauty box to my basket, entered a code at checkout to get £5 off my first box, free delivery and the mystery box added automatically. You can use code KAYLEIGH-R49K for £5 off your first box.
Inside the mystery beauty box…
Beauty Pro Brightening Sheet Mask
First thing I spotted was this and decided tonight is the night I'll have a mini pamper whilst watching Netflix. It's a sheet mask enriched with anti-aging ingredients that's suitable for all skin types. It claims to make your skin appear rejuvenated and brighter in just 15 minutes… we shall see!
Shop the box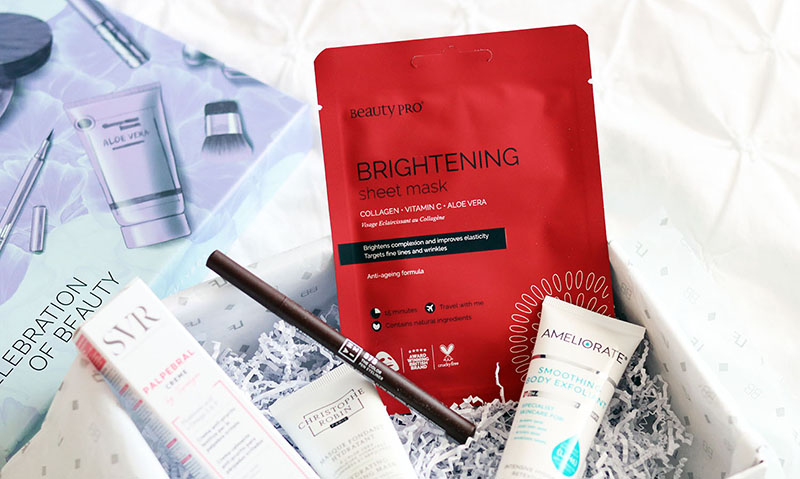 Ameliorate Smoothing Body Exfoliant, 50ml
This exfoliant has been specially formulated to tackle Keratosis Pilaris (described as the bumpy skin texture that often shows up on the back of arms and legs). It's a moisturising exfoliant containing lactic acid, shea butter and coconut oil, for use on dry skin before rinsing off in the shower.
3INA The Color Pen Eyeliner, Shade 575
I'm one of those people who suck at winged liner. I have heavily hooded eyes, so it's never been something that's come easy to me, and I'm not even sure it suits me! But, one thing I've recently started to do is consider my colour palette for my face. I've stopped wearing darker colour lipsticks, I'm swapping my glasses from black to a medium brown, and I've even been considering buying brown instead of black mascara. I've just noticed recently the dark contrast of black on my face is making me appear more pale, but also doesn't look as nice in general. So, I'm intrigued to give this a go considering the shade.
Christophe Robin Hydrating Melting Mask with Aloe Vera, 40ml
My hair is in dire need of a hair mask. I've had it bleached numerous times and it really has damaged my hair. I'm in the process of growing the colour out naturally, rather than putting an all-over colour on top, so hair masks are what my hair needs right now. This one is infused with 98% natural ingredients to lock in moisture. It's also free from parabens and sulphates.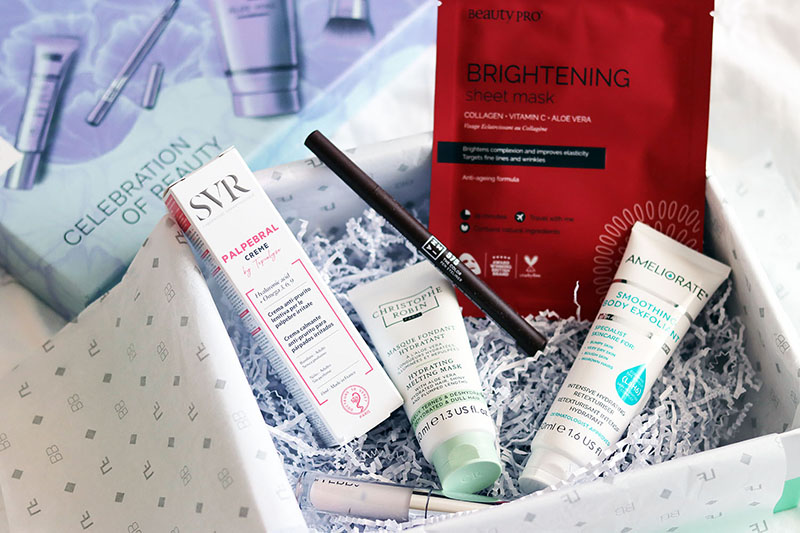 SVR Palpebral Eyelid Cream, 15ml
This is a hydrating eye cream providing ultimate hydration for up to 24 hours. It's velvet texture helps reduce redness and irritation around the eyes, which will come in useful now we're in the midst of hayfever season. My eyes are one of the areas I suffer with when it comes to hayfever season: they're constantly teary, which means I'm wiping around my eyes more often, they become itchy which causes redness, and the skin just feels extra delicate all the time.
By Terry Baume de Rose Flaconnette
I sure wasn't expecting to see a By Terry product inside this box! This is a nourishing lip balm using By Terry's signature formula. It contains shea butter, rose flower wax and vitamin E. I gave this a try as soon as I spotted it and can say it feels great; not sticky like a gloss, and leaves a beautiful sheen on your lips without looking super shiny.
Use code KAYLEIGH-R49K for £5 off your first box.
Shop the box