Before I get stuck into showing the before and after photos of our lounge and where everything is from (although, you're welcome to scroll right past this babble), I feel like I should give a backstory on why we chose the 'before', and why we opted for the 'after'.
When we moved into our first home in December 2017, we were in a rush to get rid of the white in the lounge. New builds offer a blank canvas which is great, but being surrounded by white walls in every room makes a home feel very cold. So, we opted for a 'safe' colour and just followed a monochrome theme: grey walls, grey and black furniture and silver accents. As the years have gone on and we've made bolder colour and pattern choices in other rooms, it showed how much our lounge wasn't to our taste. But, we never got round to thinking of an alternative…until this year.
Fast forward five years and four weeks from the date we moved in, we welcomed our daughter into the world. With her arrival came three months of living in our lounge doing shifts to guarantee us sleep amongst the newborn craziness. This meant I spent almost 18 hours a day staring at a lounge I no longer enjoyed. So, we decided to treat ourselves and do a complete revamp: new colours, new sofas and new layout, and boy am I glad we did.
So, that's the backstory. If you made it through that, you'll now be rewarded with the moment you've been waiting for…the before and after photos.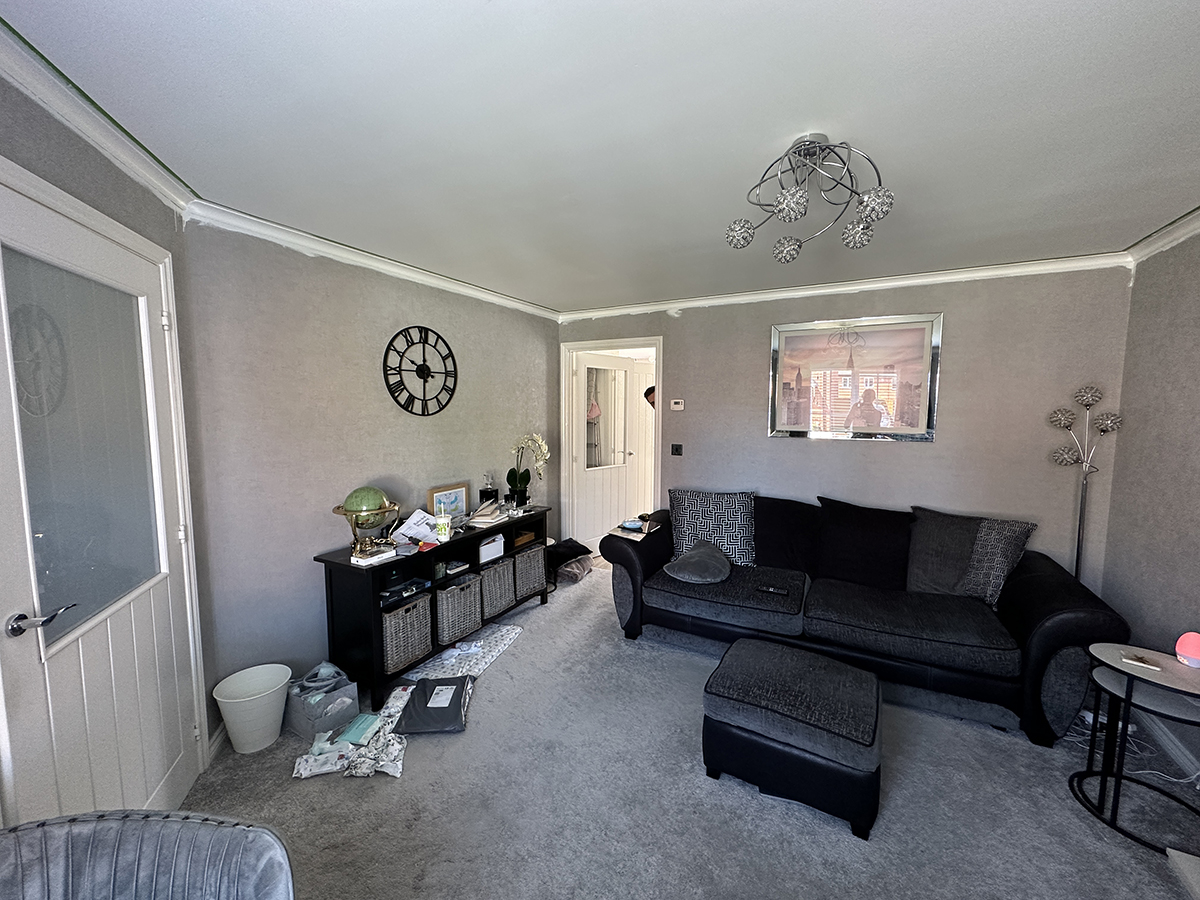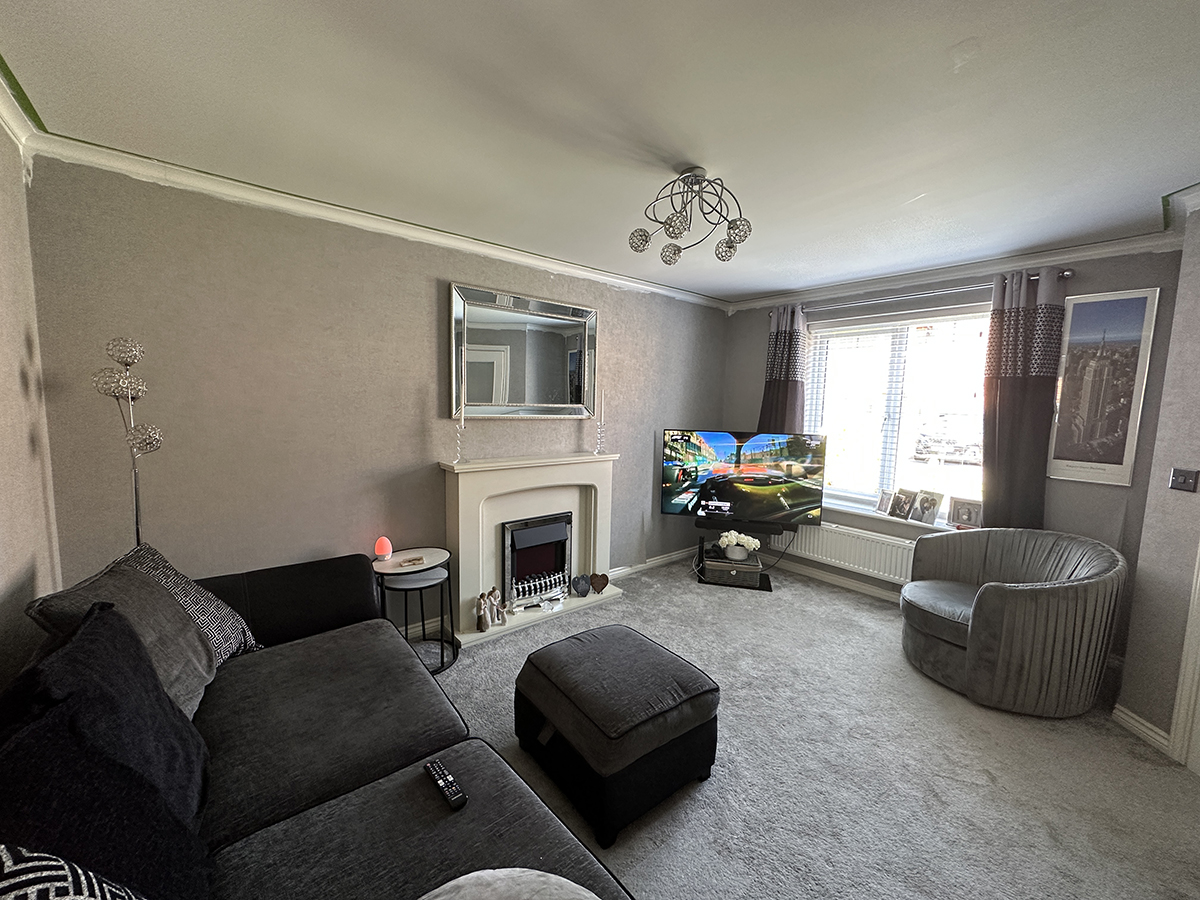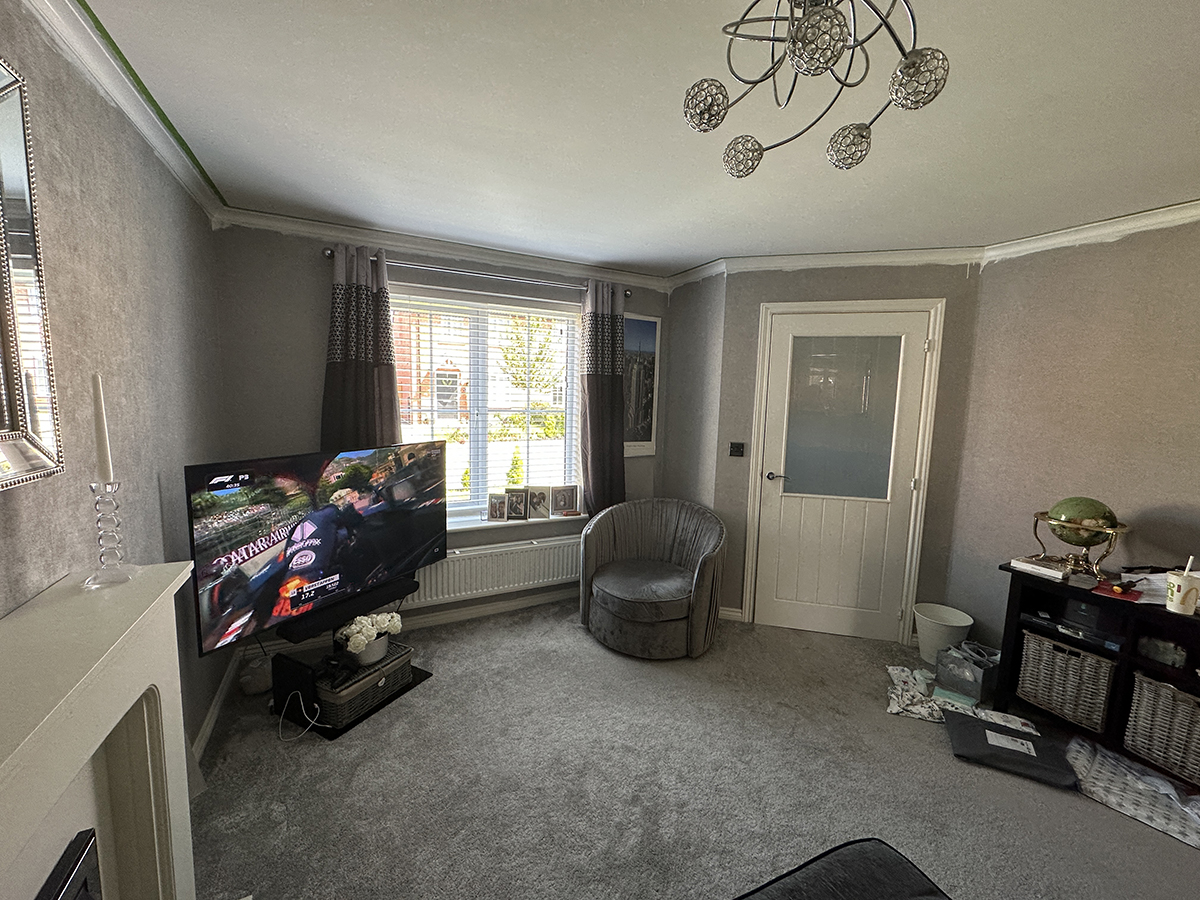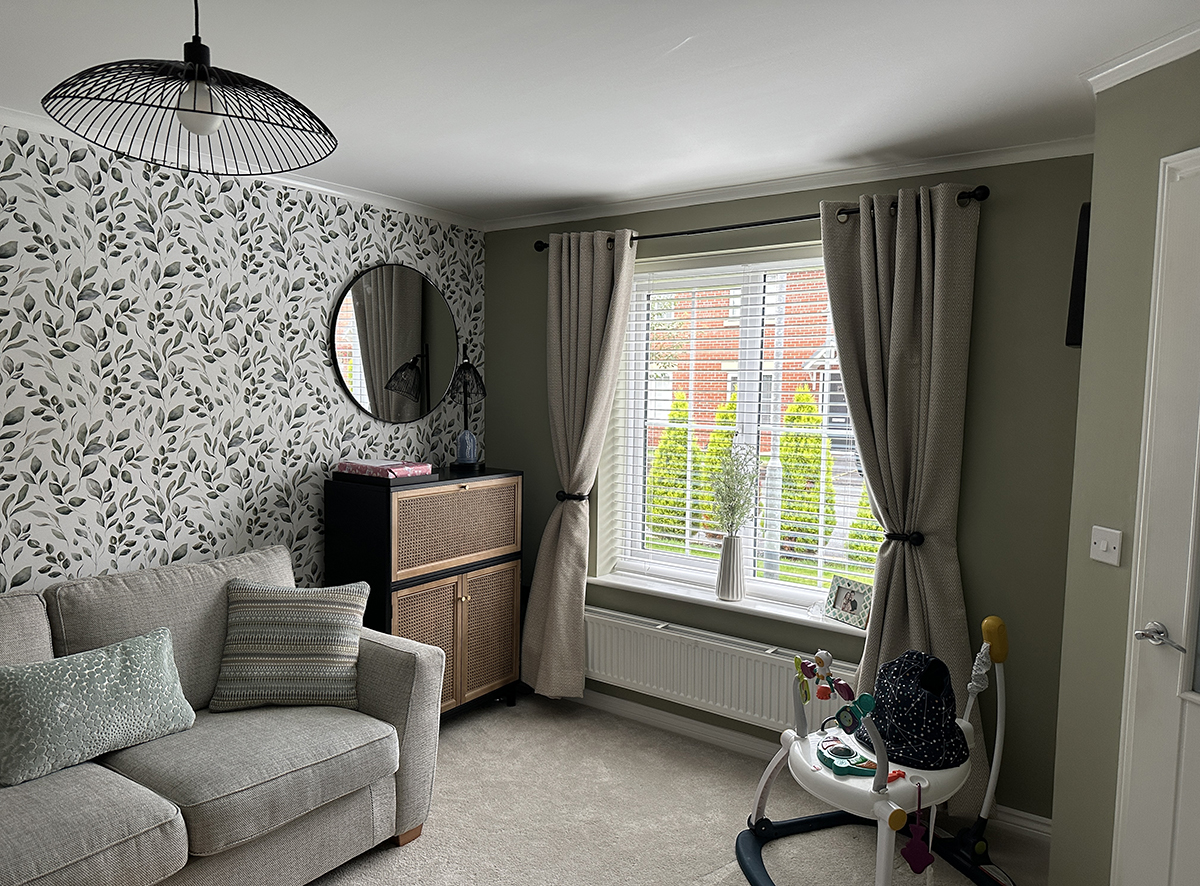 Elements Jaula Ceiling Pendant 50cm, Dunelm. Shop here.
France Bureau Cabinet, Dunelm. Shop here.
(perfect for working from home)
Essentials Round Mirror 70cm, Dunelm. Shop here.
Elements Jaula Table Lamp, Dunelm. Shop here.
Ashton Metal Extendable Curtain Pole, Dunelm. Shop here.
Made to Measure Curtains, Dunelm.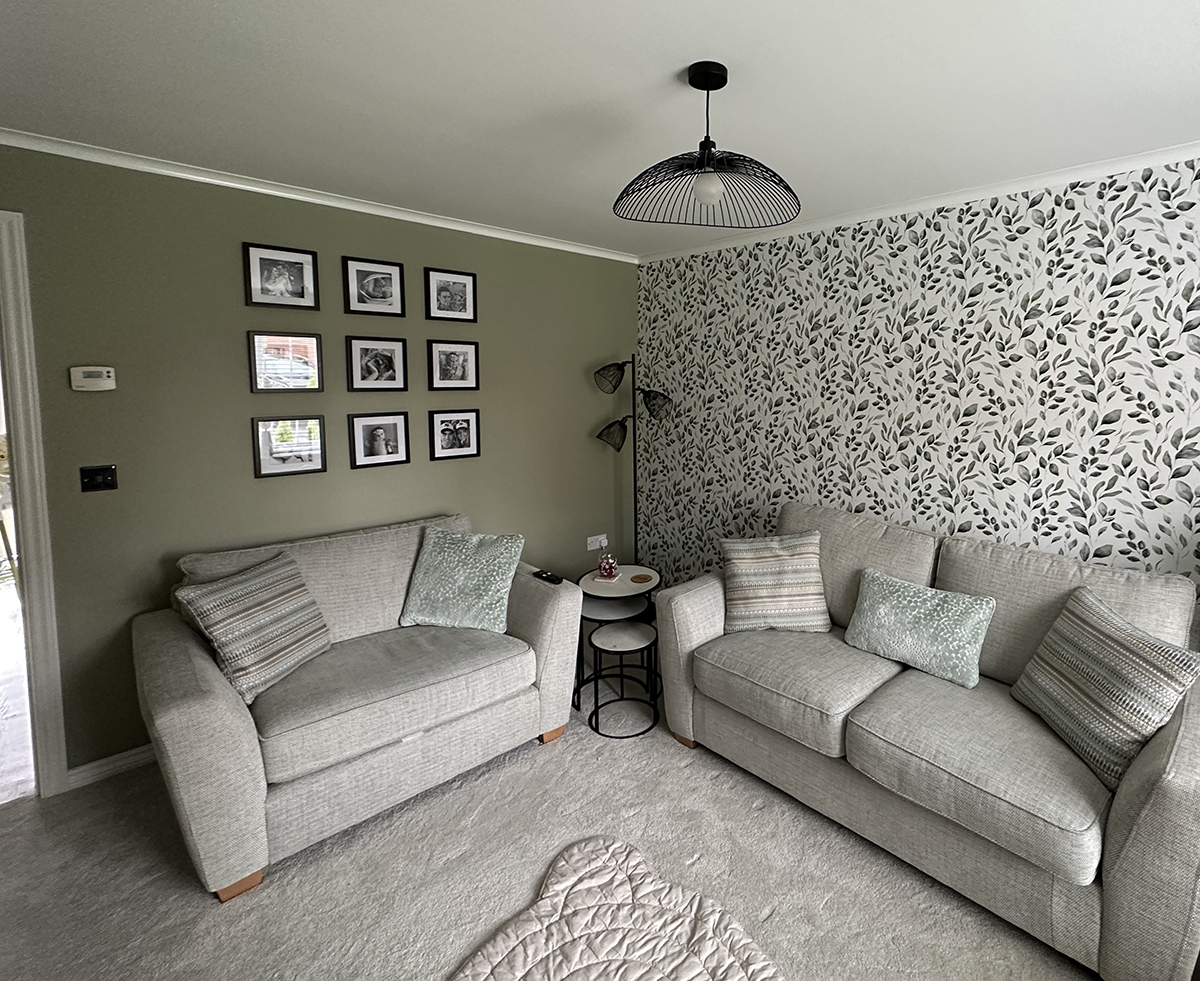 Elements Jaula Floor Lamp, Dunelm. Shop here.
Photo Frames, Dunelm. No longer available.
Sophia Cuddler Sofa in Pearl Combination, DFS. Shop here.
Sophia 3 Seater Sofa in Pearl Combination, DFS. Shop here.
Wall Paint, Dulux in Overtly Olive. The same paint used in the nursery.
Fallen Foliage Wallpaper in Rustic Greens, Lucie Annabel. Shop here.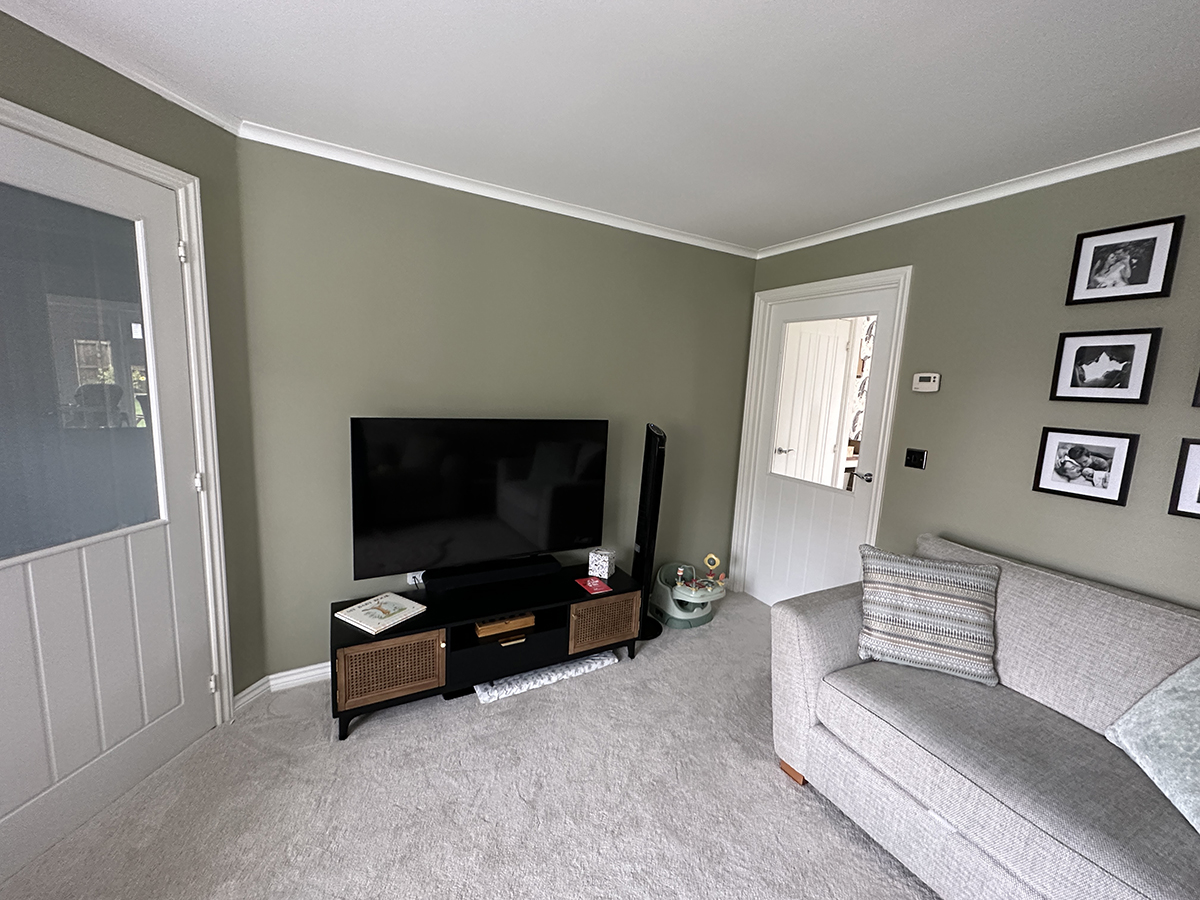 Franco Wide TV Stand, Dunelm. Shop here.
Motto Saxony Carpet in Cream, Tapi. Shop here.
It may seem like I've been sponsored to shop all Dunelm, but we just found it was the only place which had everything we liked in one place and that fit our vision.