Buying a new build property means every room is pretty bare, with no colour or character in your new home until you make the changes yourself. There's no questionable wallpaper or carpets left by the previous owners, or scuffs and damaged walls to fix up asap – everything is pretty immaculate. Although that's all great, it took us quite some time before we finally started adding character to our house. In fact, 2 years and 2 months after moving in, we finally decided on the kitchen tiles we wanted.
The kitchen is definitely the one room in the house we spend a lot of our time; cooking, eating, ironing, but also simply chatting at the dining table long after our meal is finished. So it was important we finally added those finishing touches to this room to make it feel more like us. The biggest change we made to our kitchen was adding wall tiles, and we opted for the Silver Grey Travertine Brick Mosaic Tile from Wickes. These are stunning natural stone, very expensive compared to your standard kitchen tile, but worth the price.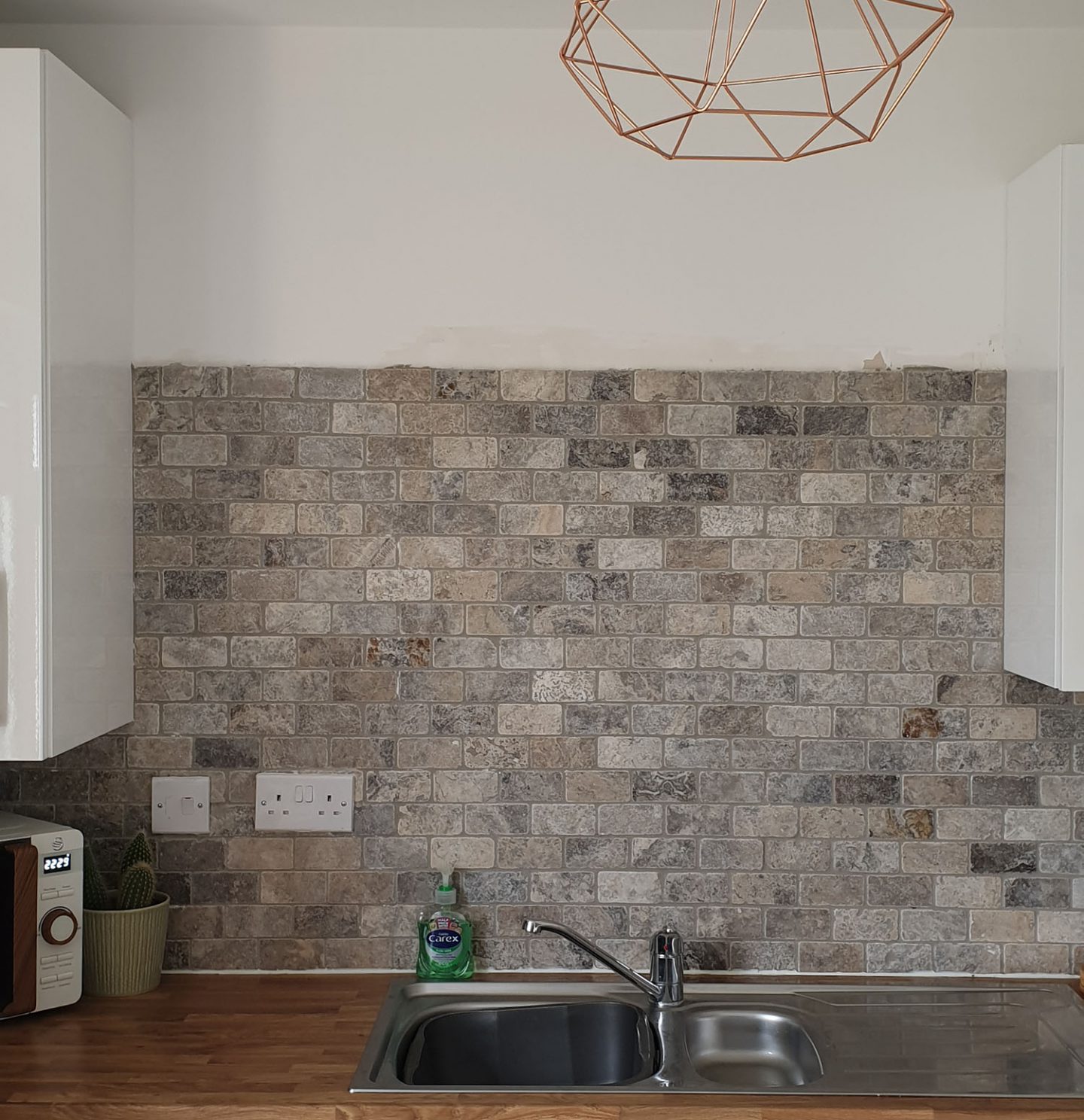 Once we tiled, the last thing we wanted to do was add a shelf which runs the entire length between the two cupboards either side of our kitchen sink. We lack decoration in our kitchen, mainly because we don't have the space. All you'll find is a vase of artificial tulips and a marble rolling pin on the side of our worktop before we had this shelf, and that's as decorative as it got really. So the purpose of this shelf was purely for decoration and to help make what felt like a very bare space, more homely.
We ended up going with BespOak Interiors which was shared by my Mother-In-Law. Now, depending on what you get and whether it is truly bespoke or not, this place can be pricey. We didn't expect to spend £200+ on a shelf, but we've only splashed out on two things in our kitchen – tiles and this shelf – and each have come out exactly as we visioned. So to me, that justifies the price.
We went for a floating shelf design, as we wanted this to sit flush above where the kitchen tiles finished. We finally opted for the Solid Oak Floating Shelf – Rustic White Oak. This is a solid wood shelf which has been painted white and then distressed by hand to give you that authentic shabby chic finish we all know and love.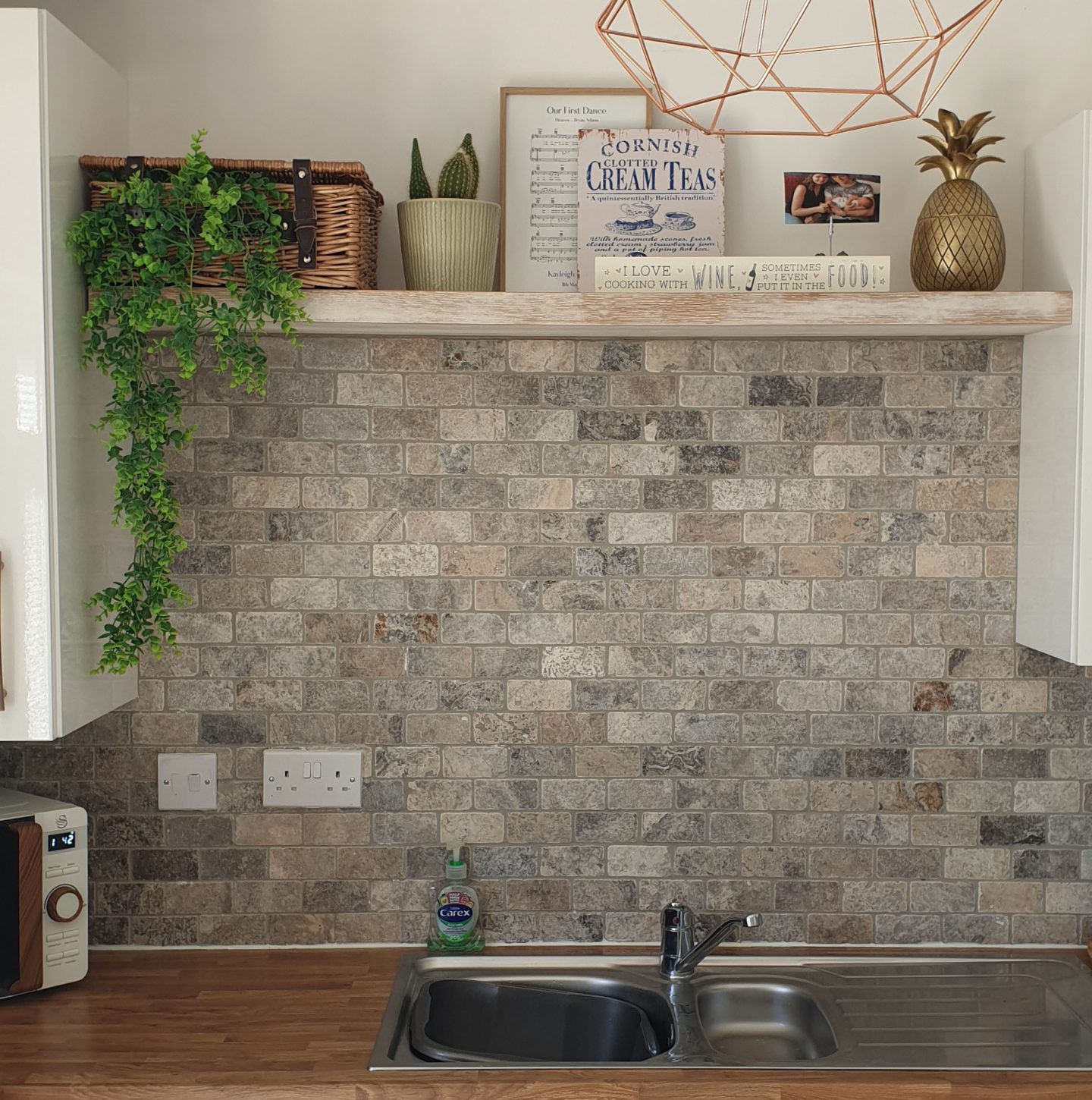 We originally thought to go with no paint, but there was no guarantee the oak would match our oak-effect worktops. We also considered going for all white, as they do a painted option where you can choose any colour you wish by the Farrow & Ball range. But this would've cost an extra £60 which seems an awful lot for white paint…
This shelf is 44mm thick and weighs a bloody ton. But fortunately they ask for your wall type so they can provide you will all the correct fixings; dot & dab wall, plasterboard wall etc. Or you can go with no fixing which saves you roughly £7. Their prices are by the meter, but you can request whichever length you require and their website works out the cost for you – no waiting for a sales person to call you with a quote. We went for 131cm as the gap between our two cupboards was an awkward length. We also opted for the largest depth at 250mm. All their photos show 200mm depth as standard, but I already had a hamper I visioned styling on the shelf which is 25cm depth, so I paid extra to suit this. The heart wants what the heart wants!
---
How long did it take to arrive?
I'm unsure on their delivery times for standard sizes of their products, but ours had a lead time of 1-3 weeks. A couple days after we placed the order, we had one of their carpenters email us to introduce himself and let us know he'd be the one making our shelf and to contact him with any questions. He would also be the one to keep us posted on the item's progress. This was a nice touch and the kind of communication and customer service you want from any company, no matter how little or much you spend. All in all, from the day of purchase our shelf took 25 days to be delivered, so a couple days over the lead time. We're in the midst of a global pandemic though, so that's pretty good going!
---
As for everything styled on our new kitchen shelf, these are below:
Hamper – gift
Artificial Eucalyptus – Etsy
Cactus Plant Pot – Bridgemere Garden World, Cheshire
Our First Dance Frame – gift
Cornish Tea Plaque – Gift Shop in Looe
Wine Plaque – The Gift Company
Gold Pineapple – Dunelm

Have you ever shopped with BespOak Interiors?