*affiliate link.
In August 2022 I shared ideas of what my dream nursery was when I was just 16 weeks pregnant, but now I'm so excited to share the final result almost one year later when I have an almost 6 month old – crazy! The nursery didn't steer far from what I originally visioned, with only a few new additions or changes as we saw the room come together. So, let's take a look at the final result.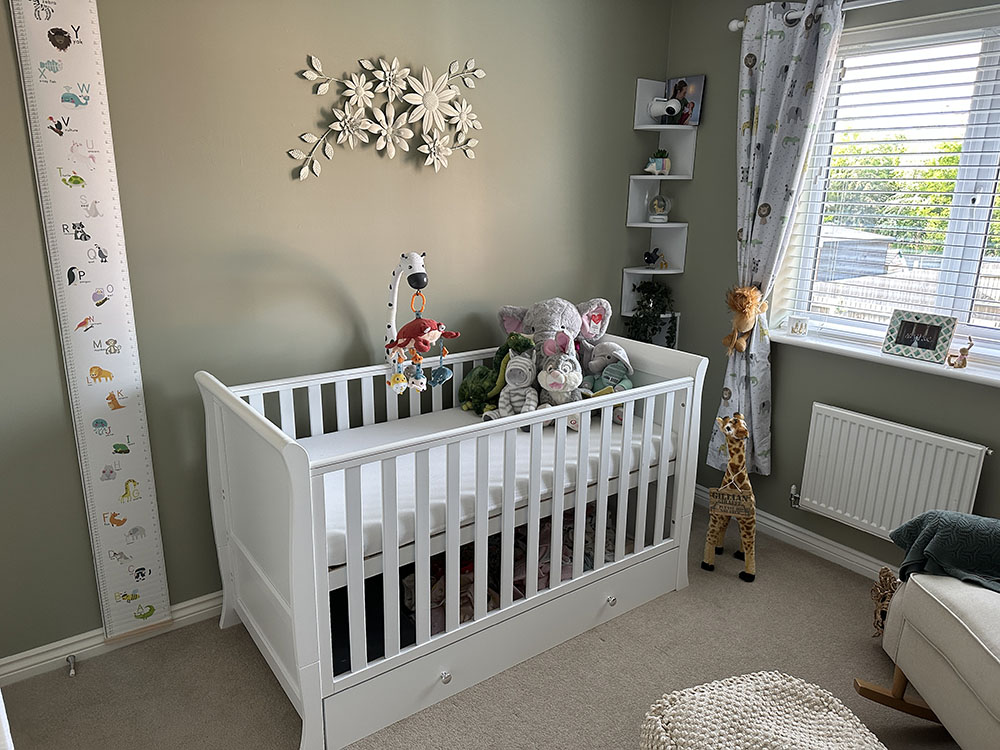 Cotbed
We've only just started doing day naps in the cotbed over the past two weeks ready for the transition to night sleeps in her own room. In the meantime she's been sleeping beside our bed in the Tutti Bambini CoZee Bedside Crib we borrowed from my sister. However, we knew we wanted a cot in the nursery which would see her through to toddler age which is why we opted for the Ickle Bubba Snowdon Classic Cotbed. The mattress base can be adjusted to three different levels depending on their age, and the side panels come off and are replaced by additional sides (supplied) which eventually turns the cot bed into a perfect little toddler bed. We then chose the Mamas & Papas Premium Dual Core Cotbed Mattress as we liked that it had one side that was firm for the baby when she first moves into the nursery, but the other side is pocket sprung which is more suitable for toddlers.
I also love the storage under the cotbed. Not all came with one, but they were easy enough to purchase separately. We use it to store blankets, sheets, mattress protectors, sleep bags and a spare duvet for when guests stay on the sofa bed (surprisingly no one has wanted to stay over when you have a baby in the house…shocker). Ickle Bubba also has the Snowdon Mini instead of this Snowdon Classic which is just 20cm shorter in length – ideal if you're short on space. We opted for the Classic (140x70cm base) however, as we're both tall – I'm 5ft 11in and my husband 6ft 1in – so our baby had a good chance of having long legs that'll easily outgrow things – we were not wrong! So, the more room she has in the cot bed, the better!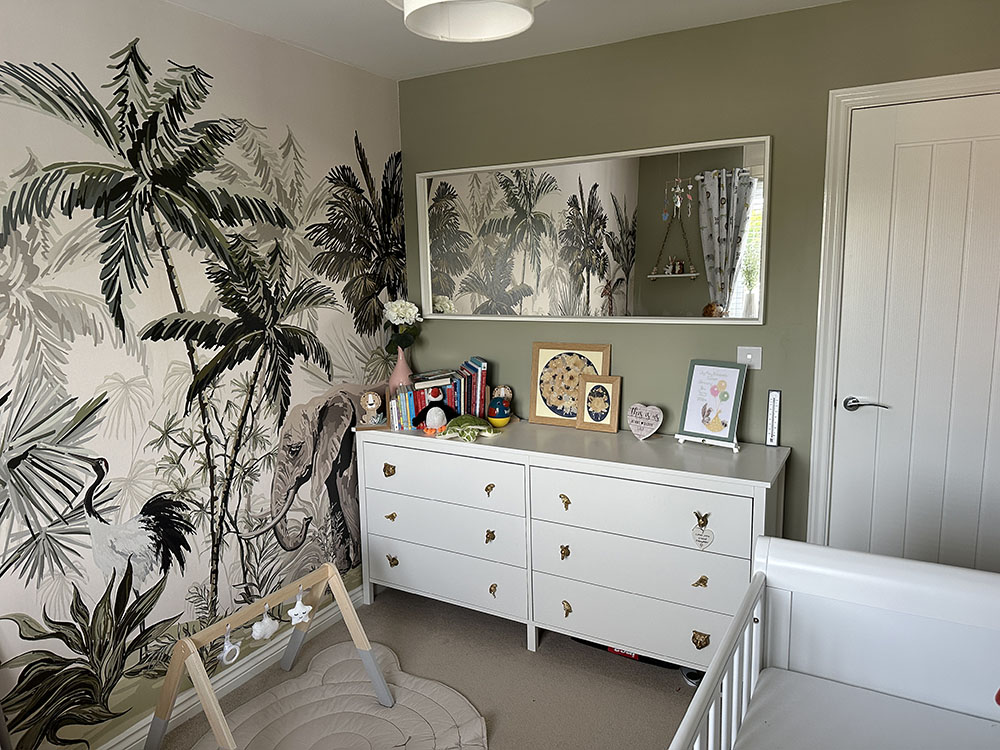 Storage
We haven't opted for a nursery furniture suite complete with cotbed, wardrobe, chest of drawers and changing table for example. We could fit it in this room, but we figured our 6-drawer chest was more than adequate for storing baby clothes, nappies and accessories – and we were right! We bought this from IKEA back in 2019 and I've simply changed the draw knobs to these gold, mismatched animal heads from Melody Maison. They didn't come as a set, they're all individual which I just bought two of each design.
Rocking Chair
We then bought the Sherlock Rocking Chair from Next in Soft Marl Mid Natural and it's the perfect chair for this corner. For the first three months we didn't step foot into the nursery with Lily, let alone sit on this chair, as we lived in our living room 24/7. However, once we started to introduce a bedtime routine at 3 months old and finally slept in our bedroom as a family, this chair got used regularly. It even became a new favourite spot to work from home when I was 33+ weeks pregnant and every chair became so uncomfortable.
The rockers come off and you're left with a static standing chair, ideal for when you no longer want or need the rocking element. But I think we'll keep it as is. We then finished it off with this footstool from Dunelm to give our feet somewhere to rest, and a deep green cushion from ASDA.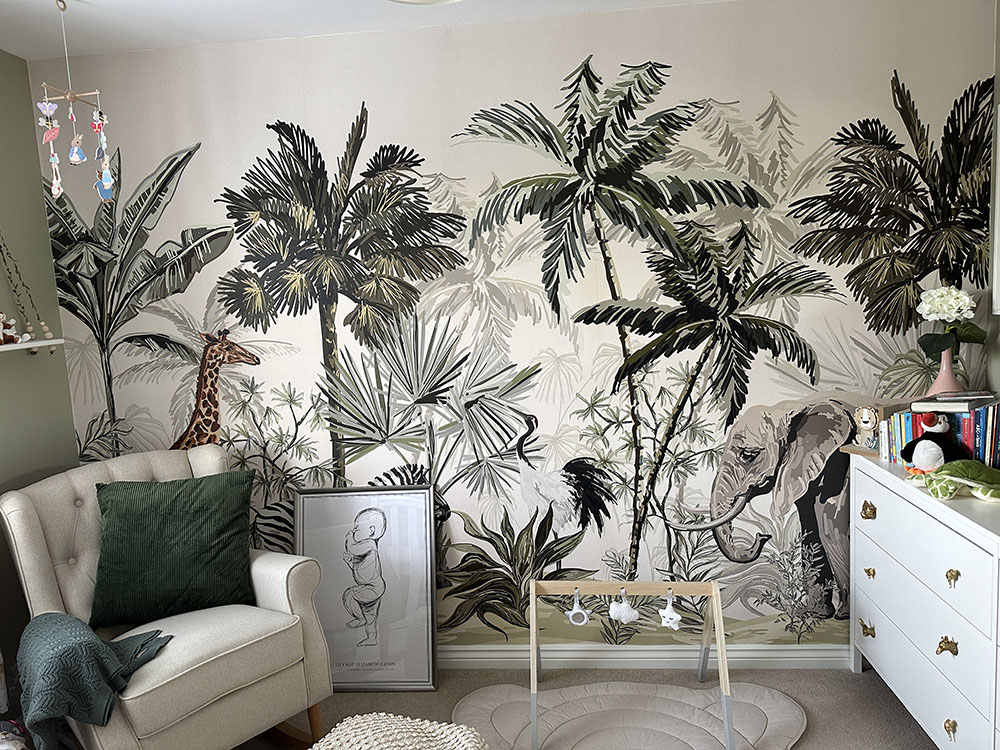 Mural
We bought this from B&Q and it's called Vintage Explorer Mural. It's beautiful, but our only fault is that it doesn't line up very well. It's not noticeable as fortunately it's such a busy print you can easily miss the issue, but slightly frustrating when you have no other option due to it being a mural. We paired this with a lovely olive green paint for the remainder of the wall (which we've now painted our lounge as we love it!) which is called Overtly Olive by Dulux.
Entertainment
We bought this teddy bear play mat from H&M and the wooden play gym is from Primark – a bargain at £6, reduced from £20 that we purchased from the Plymouth store back in September 2022 when I was 20 weeks pregnant. We had a separate playgym in the lounge which we've only just packed away as all Lily does now is roll and sit, so the playgym is no longer required. We never did use this wooden one, it was definitely one of those buys that was more for the aesthetic appeal than practical use. But it's being stored in the loft for the time being. As for the bear rug, it's new home is now the lounge!
We then have numerous books which we've mostly been gifted by family. Then of course, teddies – and a whole bunch of them! Most of these we've got when on holiday: the monkey is from The Monkey Forest in Looe, Cornwall, the turtle is from a cute kids store in Looe, Cornwall which came with a matching book, the Thumper rabbit teddy is from Primark and the cheeks glow red when you press the button, then the lobster was from The Lobster Hatchery in Padstow, Cornwall – actually purchased before I was pregnant, but it's Lily's now.
Lastly, we have the giraffe projector*/mobile. This has been part of our bedtime routine every night when we turn off all the lights and draw the curtains. It plays lovely lullaby music which even makes me sleepy, and the cute crab mobile spins. 
Decor
Now for the fun stuff – I always love the little decorative parts of any room! The blackout curtains are from Amazon by Catherine Lansfield*, which are held back by the cutest little lion holdbacks*! I bought most of the decorative items off Amazon, which isn't a shock. Another includes the 2m high height chart which displays the alphabet in animal form. The floral wall art above the cot is a beautiful find from Dunelm, and my favourite piece in the room is the cute swinging shelf with vine-effect rope. I bought this from Etsy and on top sits two little teddies which both my Mum and Mother-in-law bought her.