Pregnancy is something I'll forever be grateful for experiencing. But just because I'm grateful for embarking on this journey does not mean it's been an easy ride. Pregnancy…is tough. From the chaotic first trimester with all its new and sometimes odd symptoms, to the breeze of a second trimester (in my experience), through to the exhausting (mentally and physically) third trimester which I am currently in. All stages of pregnancy are a challenge in their own way, so pregnancy self care is essential for your own wellbeing during this time. Here are some of my ideas for self care during pregnancy, some of which I've been actively doing daily, weekly or monthly, and others which I'm yet to try.
Pregnancy Self Care Ideas
Healthy eating
Self care starts with looking after your own body, and through the ups and downs of pregnancy (the exhaustion, lack of energy and loss of appetite to name a few) it's easy to forget to look after yourself. So, start your self care during pregnancy by adopting a healthy diet.
I've always ensured I get my daily fruit and vegetable intake in, or at least three portions for the days where I either ran out or just had a low day. I've also been mindful of my sugar intake, opting for low sugar or unrefined sugar alternatives: coconut sugar instead of caster sugar when baking, sugar-free pop for when I want a fizzy drink (which isn't often), and no added sugar options.
Constipation during pregnancy is also one to be mindful of, and to help mitigate that a high-fibre diet is essential. I always get my 30g a day (rather than the usual 20g most of us likely achieve) by having Weetabix or porridge every morning, then snacking on high fibre treats: Graze Cherry Bakewell Oat Boosts* (my current favourite), almonds and pistachios, Alpen cereal bars, and also the Skinny Whip bars which I buy from ASDA. But also, stay hydrated!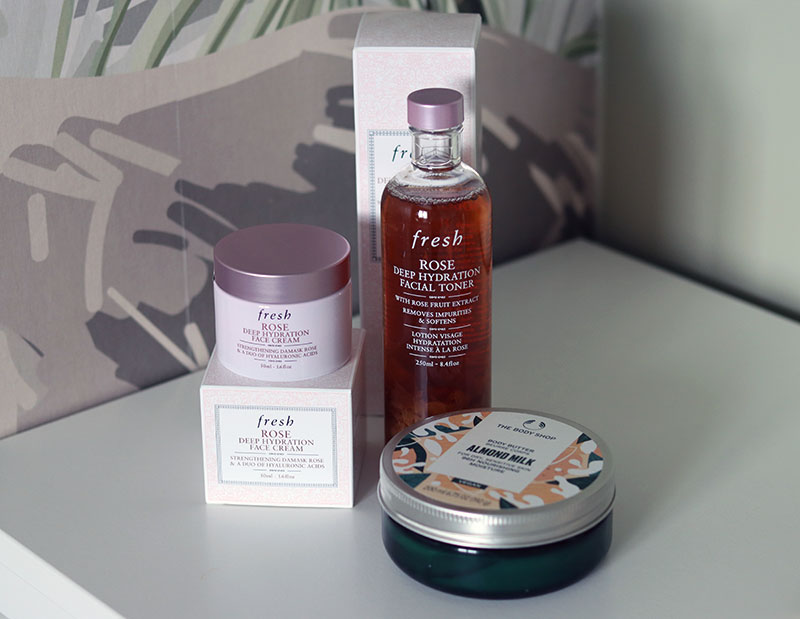 Take care of your skin
I recently shared my pregnancy skincare favourites, and they still stand today. Adopting a regular skincare routine, morning and night, has helped my skin remain the healthiest it's ever been. On top of that, I find it incredibly relaxing having a night time skincare routine. So, start by ensuring you're looking after your skin. Try massaging your pregnant belly with a moisturiser of choice; I love the Almond Milk Body Butter* by The Body Shop, but you could opt for any moisturiser including ones designed specifically with your pregnant belly in mind like Mum & You's* Tummy Time or Easy Tiger gels.
If you find them relaxing, enjoy more baths as a way to wind down in the evenings after a long day. Or even set up a little foot bath in front of the TV or whilst reading a book – I did this a couple times during the first trimester and it's incredibly relaxing.
Pregnancy massage
Before becoming pregnant, I enjoyed regular holistic therapy treatments from facials and massages, to reiki and foot reflexology when trying to conceive. All of which I love and did not want to stop when finally becoming pregnant, so I ensure I treat myself once a month to some form of treatment.
Pregnancy massage has so many benefits: reduces stress, lowering blood pressure, and even helps to prevent swelling. I've enjoyed a massage for pregnancy that was fully designed for Mums-to-be in mind, but I've also enjoyed other massages that are suitable for all which were adapted to suit pregnancy also. It's important that you pick a therapist who is a fully trained and qualified masseuse, but also knows the ins and outs of safe massage techniques for pregnant mums.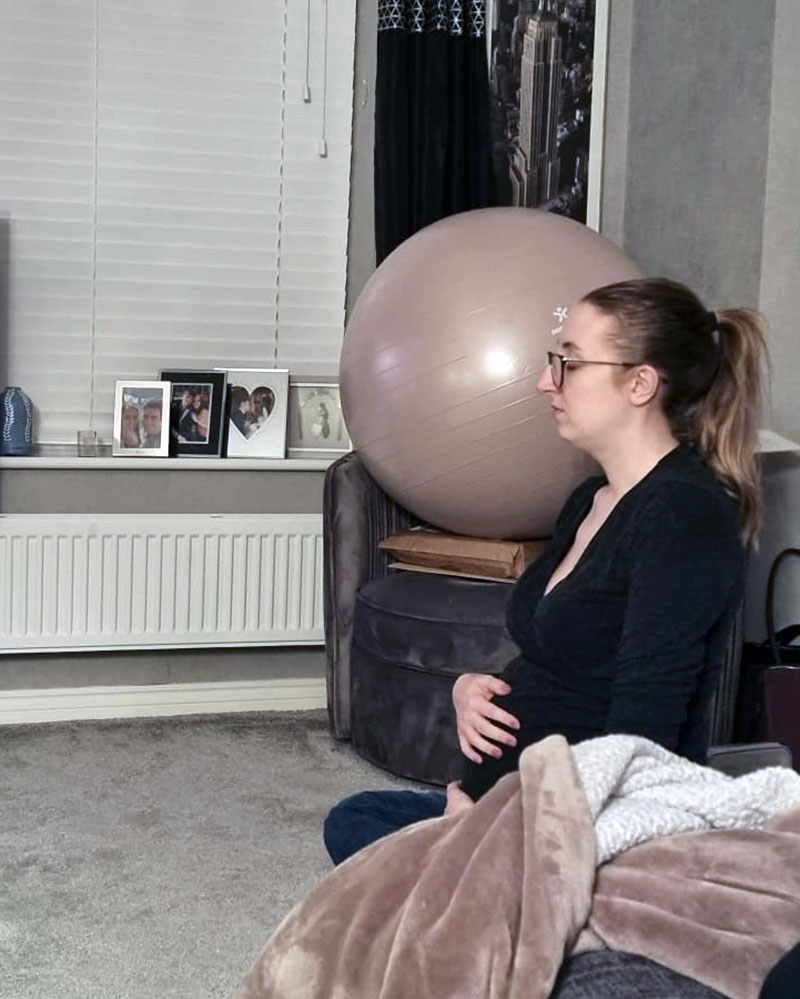 Exercise
Just like adopting healthy eating, exercise is also important to look after your pregnant body and also prepare it for easier labour (or so I've read). No one is expecting you to go on a run or do 30 minutes of cardio every day, especially if you weren't doing this prior to pregnancy. However, light exercise four times per week is a great way to make you feel great. My husband and I go for walks most evenings. If the weather is horrible we do a quick 10 minute walk just so we've got out, but on drier evenings or weekends we enjoy a good 30 minute stroll.
I also follow Pregnancy and Postpartum TV on YouTube for their prenatal yoga which is great for loosening up my joints when they've got stiff, and relaxing me before bed. I've more recently been using my new birthing ball*, which is the exact same as an exercise ball, which helps with pelvic pain during pregnancy.
Sleep
Now, I know how incredibly frustrating it is when people tell you "enjoy the sleep whilst you can" when you tell them you're pregnant because, in my experience, sleep has been non-existent. If you've read any of my weekly Pregnancy Diary entries then you'll know I've struggled with this. However, there are steps you can take to help you fall asleep, even if it's just for 1-2 hours it's better than nothing, or to improve the quality of your sleep.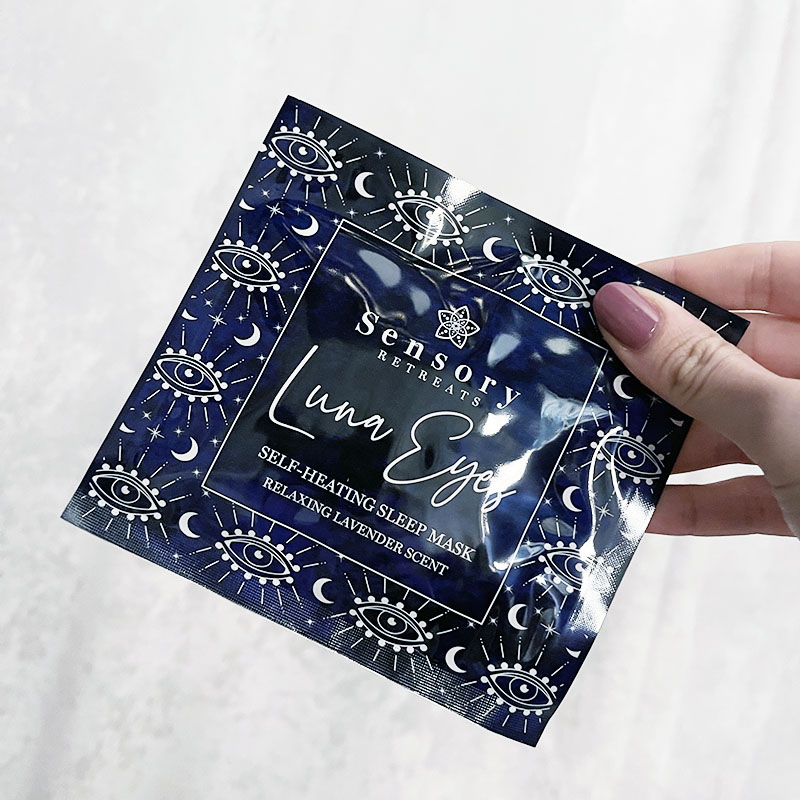 A weighted eye mask or self-warming eye masks are a great way of blocking out light to help improve your quality of sleep, and even get you to sleep faster. Avoiding your phone when you get into bed is also key. They say to avoid any screen time within an hour of going to bed, but in this day and age that's difficult, let's be honest. So a good habit is to leave your phone on your bedside table once you get into bed and either read a book or just roll on to your side and try to get to sleep right away. I always notice a positive difference when I do this.
My last tip for sleep during pregnancy is more around avoiding interrupted sleep so early into the morning. We know those nightly trips to the toilet are annoying, but one thing which helped me a lot was ensuring I drank enough throughout the day where I was fully hydrated and could stop drinking two hours before my usual bedtime. By doing this, I'd find I could go until 5am most mornings without waking with the need to go to the bathroom – amazing! Third trimester is a whole other story and this tip may not work as well as our kidneys are producing more urine than any other pregnancy trimester, but it's a nice one to try for the hope of an extra hour or two of uninterrupted sleep.
What are your pregnancy self care tips?
*this post contains affiliate links.