On 11th May 2019, I became Mrs Caton – feels weird to type that, let alone say it, even several months on.
No matter how many times you've been to a wedding, been a bridesmaid, or watched Don't Tell The Bride, there's some things you may not expect to happen. No matter how many days you've collectively spent planning your wedding day, it's almost certain that something isn't going to go to plan. It may not be catastrophic – and we sure hope not – but it may be a little different to what you visioned.
Speaking from experience, there were a couple things that didn't go as planned on our big day. It wasn't the end of the world, but it made me realise that no matter how much control you have over the planning, you have little control when it comes to the day itself. So, here's what to expect on your wedding day – from my experience.
Those few minutes before the ceremony are nerve-racking
One of our wedding cars broke down which made me a couple minutes late. Understandably, this made me a little jittery as I hadn't exactly got off to a good start. We stood outside the ceremony room waiting to go in and suddenly the nerves heightened. I felt lightheaded, a little breathless and got very warm. The moment the doors opened and my entrance song began, it all vanished. I suddenly was so excited and had a huge smile on my face, but guests probably wouldn't believe that just moments before I felt like I was going to pass out.
Not everything will go as planned
I mentioned just then that one of the wedding cars broke down. That sounds disastrous, and definitely could've ended far worse than it did, but I was fortunate that I had booked two cars for my party so I had a backup. However, this wasn't the only thing which didn't go to plan. We were informed just before our speeches that guests weren't allowed drinks inside the room. It was a small chapel they had at the venue, but as we weren't holding a religious ceremony in there and were simply using the space for speeches, we were told prior to the day that drinks were allowed. This obviously hadn't been communicated to staff on the day, so there were no toasts in the end. Lastly, we were pulled aside to be informed that the rose vines we'd ordered as part of our centrepiece hadn't lasted very well and were looking rather sad. Fortunately, the venue had called the florist to correct them immediately.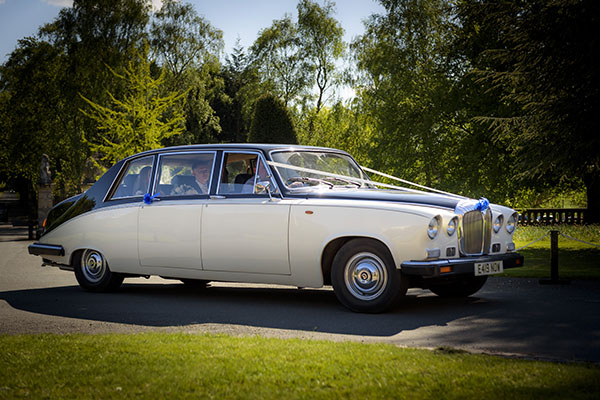 There are not enough hours in the day
This can be said for two reasons:
1. There's not enough time to get ready, no matter how early you start
2. The day itself is over in a flash
Our ceremony was at 4pm and the venue was close to home, so I had a lot of time on my hands. Despite that, I was still up from 5am and showered, hair washed and fresh faced by 7am, waiting for our hair stylist to arrive by 9am. We had a really chilled morning/early afternoon getting our hair done, having lunch, and taking our time doing makeup. But then it got to the point where we chilled out too much and were of a sudden rushing and found myself panicking.
I expected it to be like the movies; wake up with a beautiful glow, dressed in all your matching Team Bride pajamas, rocking out to some girly tunes while you sip on Prosecco over some breakfast before taking your time to do your makeup while someone tends to your hair, then awaiting the moment you finally get to walk down the stairs in your wedding dress to surprise everyone with your dress of choice. But no. That wasn't the case at all.
Instead, you get up with dark circles because you didn't sleep a wink, you have a dodgy stomach from all the nerves, notice your skin has suddenly decided to turn against you, you nick your legs while shaving in the shower and it decides to bleed on and off all morning, you can't find anything you're looking for (despite laying everything out the night before), your makeup isn't turning out right, your hair isn't playing ball, then there's always some sort of outfit malfunction – no matter how big or small – to add some additional stress to the morning. 
As for the wedding itself, it really does fly by. Before you know it, you've exchanged vows and just moments later you're thanking guests as they leave.
You're an emotional wreck, even if you said you wouldn't be
I never got emotional throughout any stage of the wedding planning, and didn't think I'd be emotional on the day either. That was until I saw my brother in his suit for the first time – then I was a blubbering mess. The last year of planning for this one day suddenly hit me at once. It's like a mix of relief that the day finally arrived.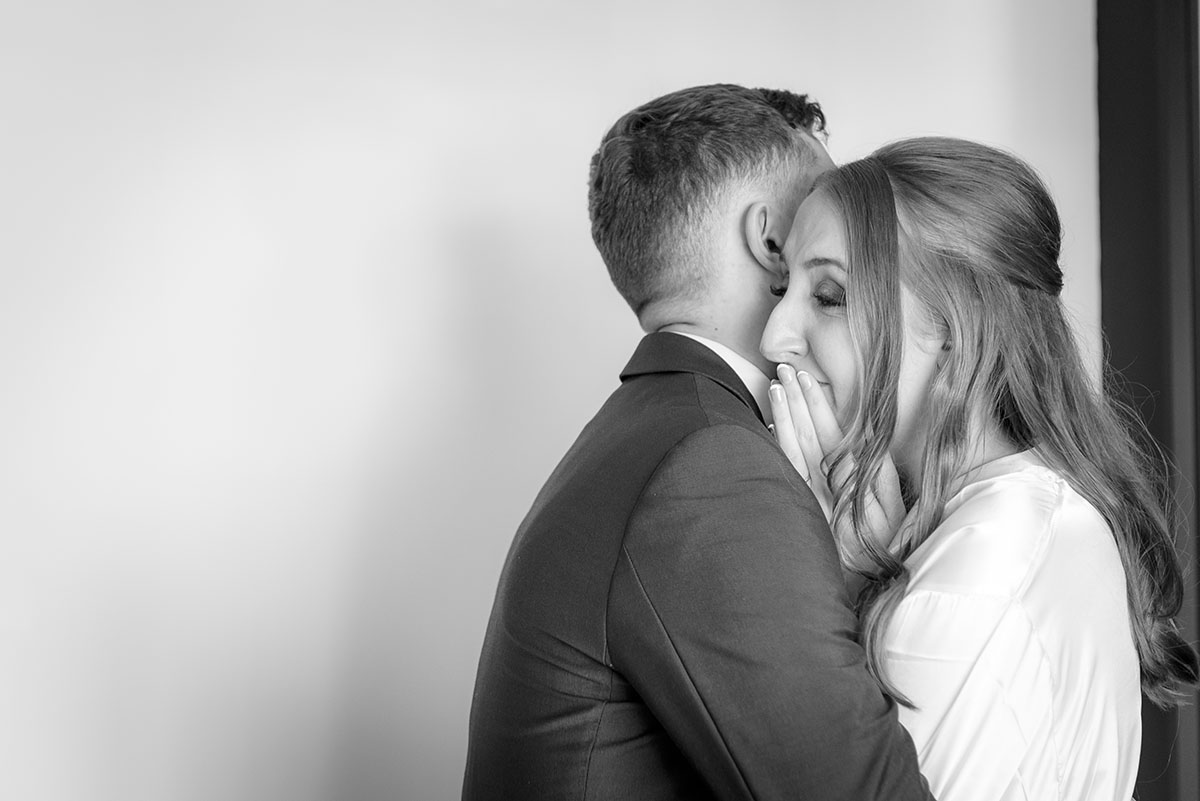 The photographs are your only chance to chill as newlyweds
Your wedding day is crazy. You're whisked away at every chance someone gets, but our time with the photographers was the only time throughout the day where I felt me and my new husband had time to relax, just the two of us. 
We told our photographers beforehand that we wanted all the group and family photos done first, so everyone could then wind down in the bar whilst we then spend time having our couple photos. 
Another thing about photographs is that you expect it to be over within less than an hour, but you're sooo wrong. Instead, allow yourself a minimum of 1 hour for all photos. Obviously this depends on what you want in terms of photographs, so you may not need an hour to get everything you want. But, if you are anything like us and love to capture every moment, then allow more time. 
You'll likely to have to fix your own hair
Our hair stylist did a lovely job for my whole bridal party, but in hindsight, I probably booked her too early in the day. A couple hours later I found myself having to re-add curls that had dropped and using stronger hairspray to ensure it stayed that way. It's only minor, but it's not something you might expect to happen when you've paid to have it done by a professional.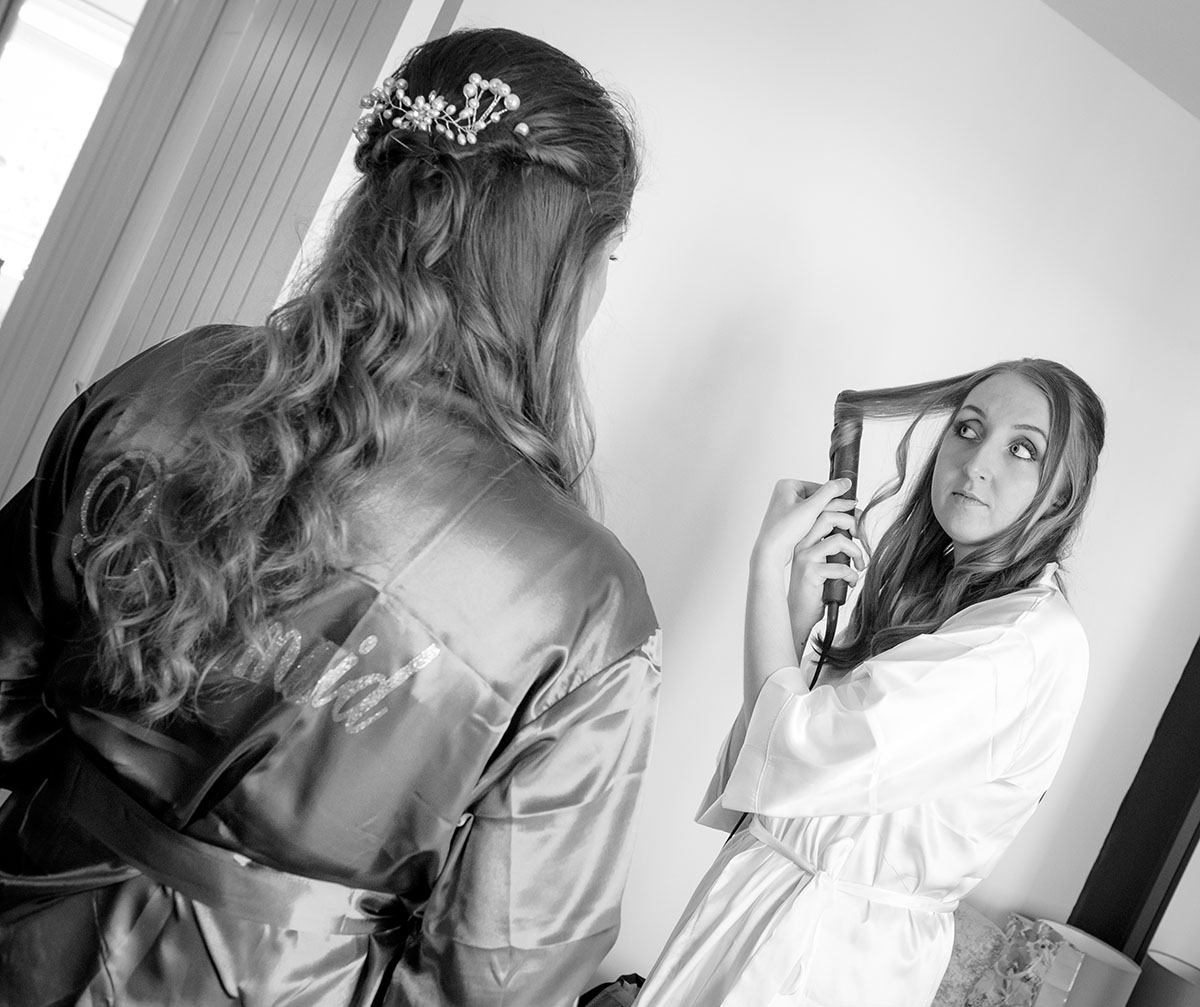 Cutting the cake feels awkward
Cutting the cake itself isn't awkward, it's what happens after. There's not smooth transition into doing something else, so your guests have stopped clapping, you've had your photos, and you're both stood their for a brief moment not knowing where you should go next. Do we just go sit down for a couple minutes? Or do we go straight to the dance floor? We opted for the latter, but even then it just felt awkward. 
You won't get much time to eat or drink
Pre-wedding, I always spoke of the food and would think, "I can't wait to eat this and that". We booked an evening buffet of burgers, sandwiches, quiches, and other types of party food, as it was the easiest and fuss-free option. We also hired a sweet cart, which I probably looked forward to the most. But in all honesty, I was so busy dancing or chatting to family and friends, that I didn't have much time to even think about food – only when I really needed a little pick-me-up.
One of our favourite photos from the day was one a guest took (below) which looks as though I had a few too many on the day. However, this was the only alcoholic drink either of us had that day. When we walked out the ceremony, we were both handed a glass of Prosecco and this photo was taken when I quickly wanted to take a sip, as we just weren't getting the chance! After that, we were both on the water as we had headaches, or I was on the orange juice to get some sugar in me…