*contains affiliate links.
Christmas has always been my favourite time of year, but this year brings a whole new level of excitement as it's my daughter's first Christmas! We don't want to go crazy with the gift-buying because her birthday is just a few weeks later, but that doesn't mean I haven't already bought a present or two…
Instead, I want to focus on gifts for a magical first Christmas that don't have to be saved for Christmas Day, and instead can be part of the whole of December, Christmas Eve traditions, or for the 'just because'. Below are my top ten picks from Etsy UK for a magical first Christmas, but be sure to check out their gift guides, including their gift guide for kids. 
Personalised Stocking
This is a must, although sadly we no longer have a fireplace to hang these on due to redecorating our lounge earlier this year. But, I will find a new home for our stockings regardless and can't wait for Lily to be old enough to sit in her bed Christmas morning opening little surprises that 'Santa left' for her in the night.
Find here*.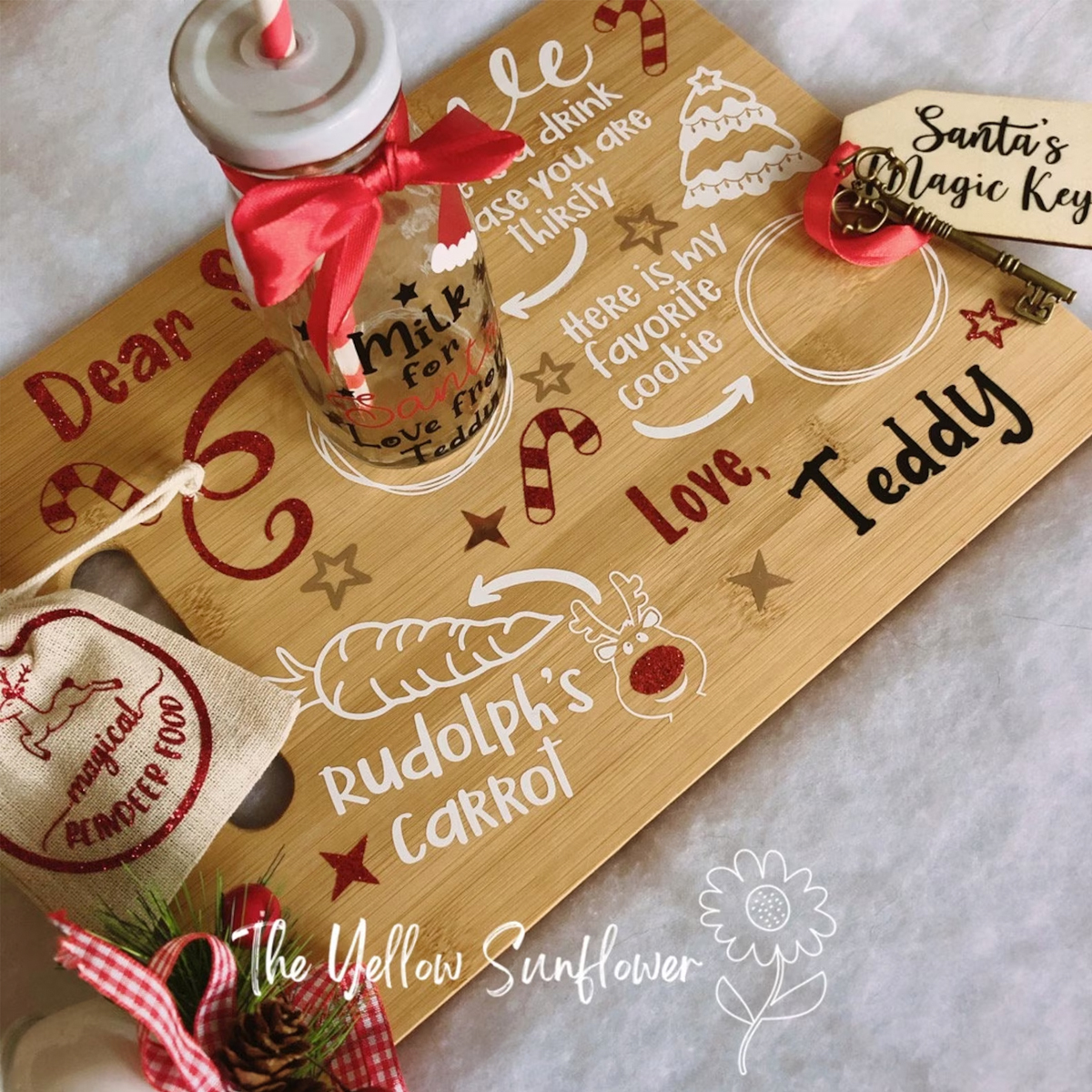 Christmas Eve Plate or Board
A must-have tradition for every Christmas Eve. I vaguely remember the excitement of going downstairs Christmas morning to find crumbs leftover on our plate, so being able to watch Lily share that same excitement all over again will be magical. I know I'm getting a little ahead of myself as she'll only be eleven months old this Christmas, but this is the type of gift that lasts a lifetime.
Find here*.
Santa's Magic Key
Without a fireplace anymore, we contemplated for far too long, "how will Santa get inside the house?". Then we saw these keys everywhere and thought it was such a simple idea for those who don't have fireplaces.
Find here*.
Personalised Sleepsuit
I have a box I'm storing memorable items of clothing with labels attached that have a memory written on them: her first bib, first vest, hand-knitted cardigans from Nan etc. So this will be another memorable item of clothing to add to it.
Find here*.
My 1st Christmas Dinner Bib
Again, another one to add to the memorable clothing box, albeit I'm sure it'll be covered in stains even after a good wash, but I guess that's all part of the memory. I'm so excited to watch her enjoy her first Christmas dinner, I guess that's one of the plus sides to a new year baby, they'll be able to do so much more at their first Christmas than as a newborn!
Find here*.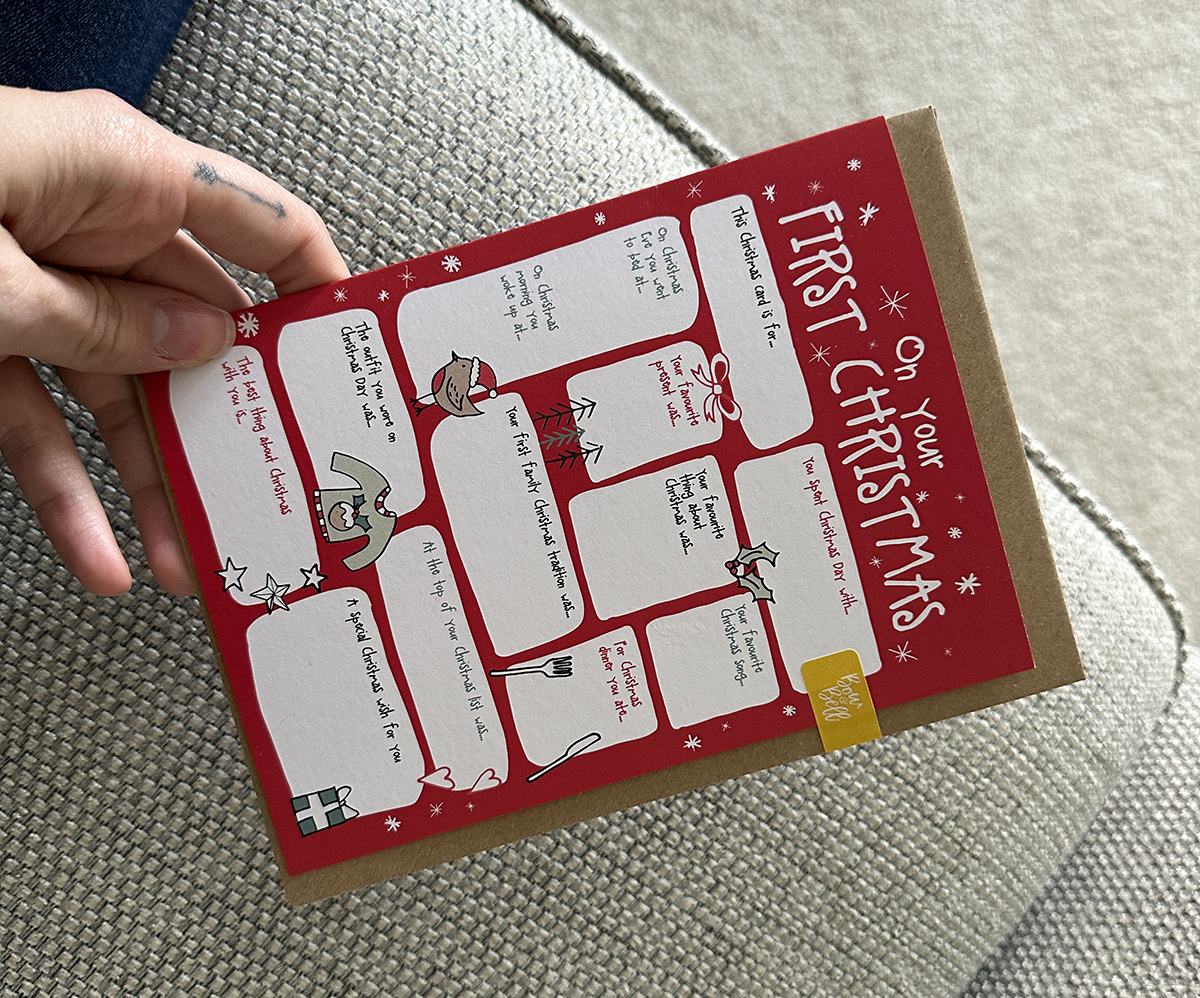 Your 1st Christmas Card
This is one of my favourites and has already been bought and arrived – less than £5 but holds so many memories in one place. I haven't seen Christmas cards like this in shops before, so this is a secondary card for her to fill out on the day, because I still want to buy a Daughter card for the first time obviously!
Find here*.
My 1st Christmas Bauble
We've already got ours which was done at a pottery shop in Cornwall this year, but part of me wishes I'd ordered one online like this one – trust me, our hand-painted one is an eye sore as Lily was fussing during the whole session so we were very rushed and didn't have a plan of how we wanted it to look. I guess it holds a memory already, but it's still not the prettiest thing to look at. Maybe it's one for the back of the tree…
Find here*.
Personalised Labels for Glassware
We've got some Christmas glasses we bought cheap from ASDA year's ago which are in dire need of replacing (they're more of an all year round drinkware in our house as we forget to store them away every New Year). I love the idea of getting personalised vinyl labels for each of us and adding to some drinkware we can choose ourselves and that's appropriate for Lily – I'd say this is a far cheaper alternative to buying a personalised cup online.
Find here*.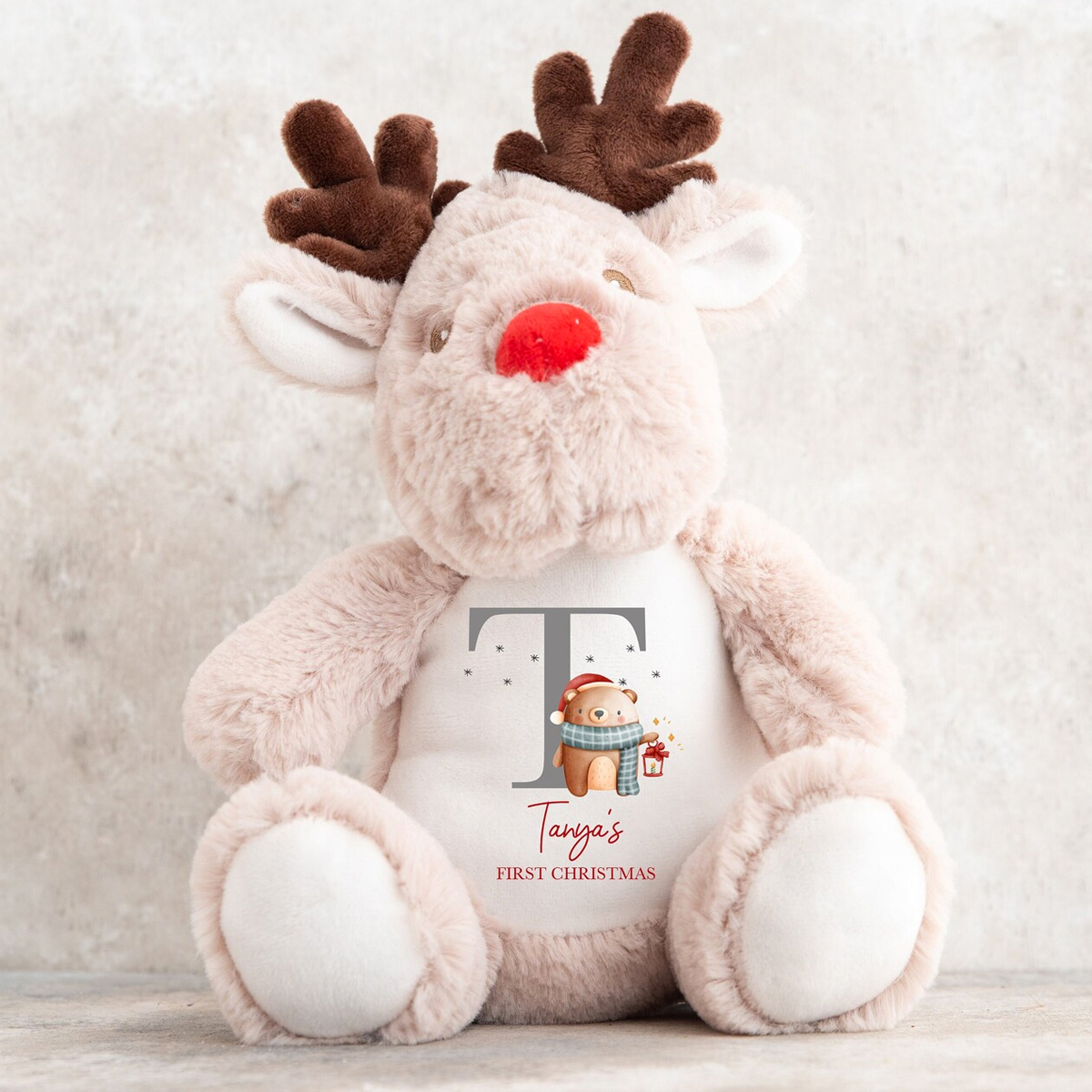 Personalised Christmas Teddy Bear
You can't go wrong with gifting a teddy, can you? Lily already has so many, but none are festive, so that's my excuse to buy her another.
Find here*.
Personalised Santa Sack
Personally, I love to have presents scattered under the tree rather than in gift bags, but I make an exception when it comes to these Christmas sacks as they always look so good. I think this is a great option for those who have more than one child too and usually buy quite a few gifts – keeps them all in one place and without presents getting muddled together!
Find here*.
Has your child already had their first Christmas? What gift ideas do you have to share?