If you've read my anxiety story, you'll know I took some time off work to focus on my mental health. After seven weeks however, I'm returning to the office! I'll continue working from home, as I have for the past two years, but I plan to venture into the main office at some point. With this in mind, now's the time to get my home office ready for my return to the desk.
One of our spare rooms was converted into a home office weeks before the Covid-19 pandemic hit in 2020, so I'm fortunate to have a space in our home where I can focus: away from easy reach of the fridge, the TV, or my bed. However, since taking time off work, I've avoided this room like the plague (or Covid as a more recent avoidance). I didn't want to see my laptop, notebooks or a desk chair for some time. I wanted the time off to be as work-free as possible. But in the final week before returning, I knew I needed to get back in this room and get it ready for a stress-free return. So, I'm writing this post from my desk to get a feel of what it's like again.
There's not much I can change about the set-up; it's a small room with little space to move the desks around. For me, it's more about ensuring I had all the tools I needed in place, a clean desk, and a tidy room to avoid a cluttered mind. Whilst sitting here typing this post, I also wanted to see if it heightened my anxiety at all. It's normal if they did return (and they sure did), but it helped me test out all the CBT techniques and mindfulness practices I've put in place over the past seven weeks, to see what helps. For me, leaving the room even just for five minutes and then returning is what helped. So we'll see how next week goes when I'm doing this for a full working day.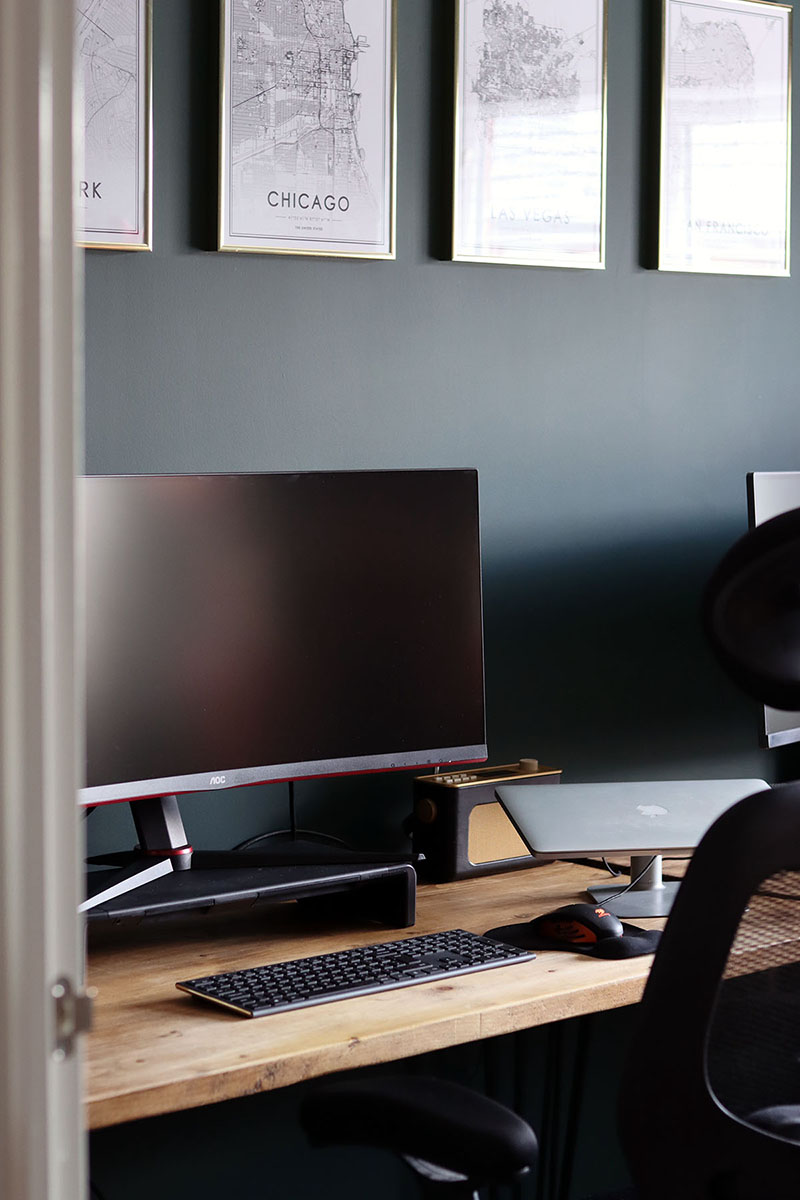 The week prior to going on leave, my monitor broke and was beyond repair. To this day I still don't know what happened. I remember logging off with no issues, but hours later my husband shouted down, "What happened to your monitor, Kay?". I ventured upstairs to find what I can only recall as a scene from The Ring – the screen was a black and white static fuzz. We took it in for repair, but it had no hope. So, I bought a new one this week and decided I deserved an upgrade from a standard screen, to an ultra-wide 4K monitor.
I'm always working with multiple tabs, so the bigger the screen, the better. However, size does matter in this case as too wide a screen does not work well with me. My husband has an insanely huge monitor on his desk (his and hers desks were a must for us!) that's probably 1.5x bigger than this one, and after defaulting to using that for a week, I knew it wasn't for me.
I then simply have my work laptop connected to it on the side which I use more for replying to Teams messages and emails, and for video calls.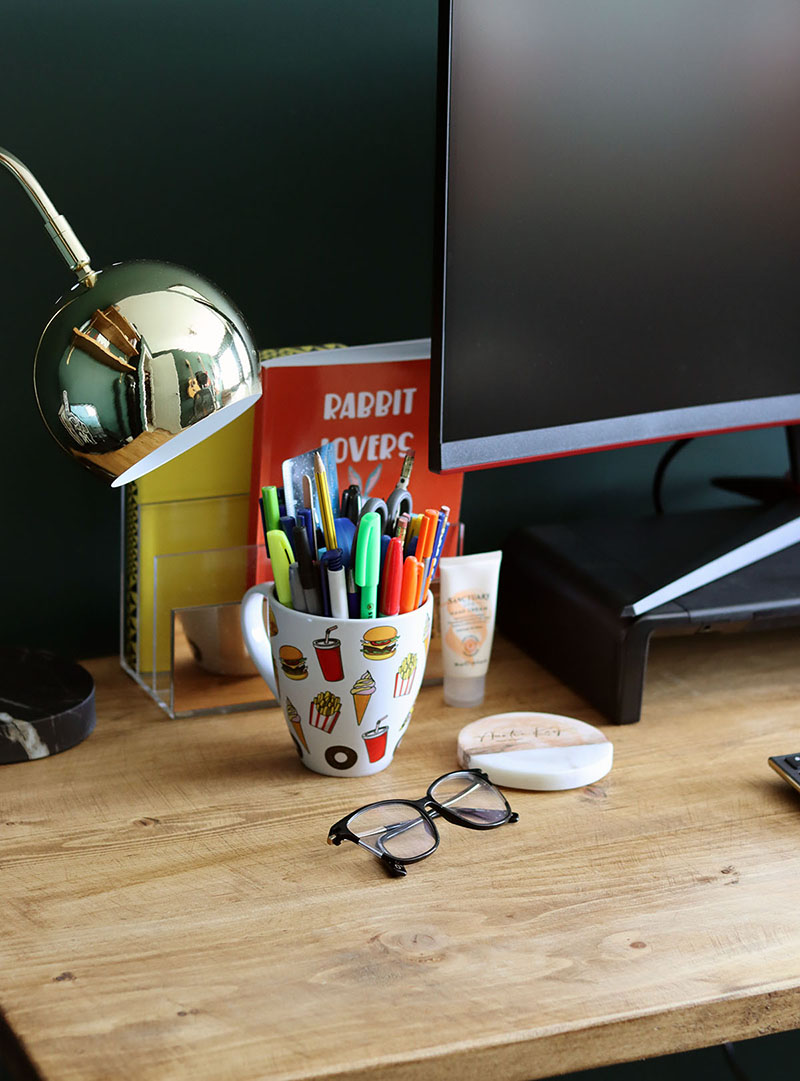 Notebooks at the ready! Just before my leave, I started to take notes digitally using OneNote, but I find I prefer the traditional use of pen and paper. It's quicker, I can draw arrows to other notes when things get muddled, and I don't need to worry about trying to hear someone talk over the clickity-clack of my keyboard (I'm an aggressive typer sometimes). I get through a standard notebook in just a couple months with the amount I write, so back in the main office I have a draw filled with around ten notebooks at the ready. Anyone else a big notebook fan?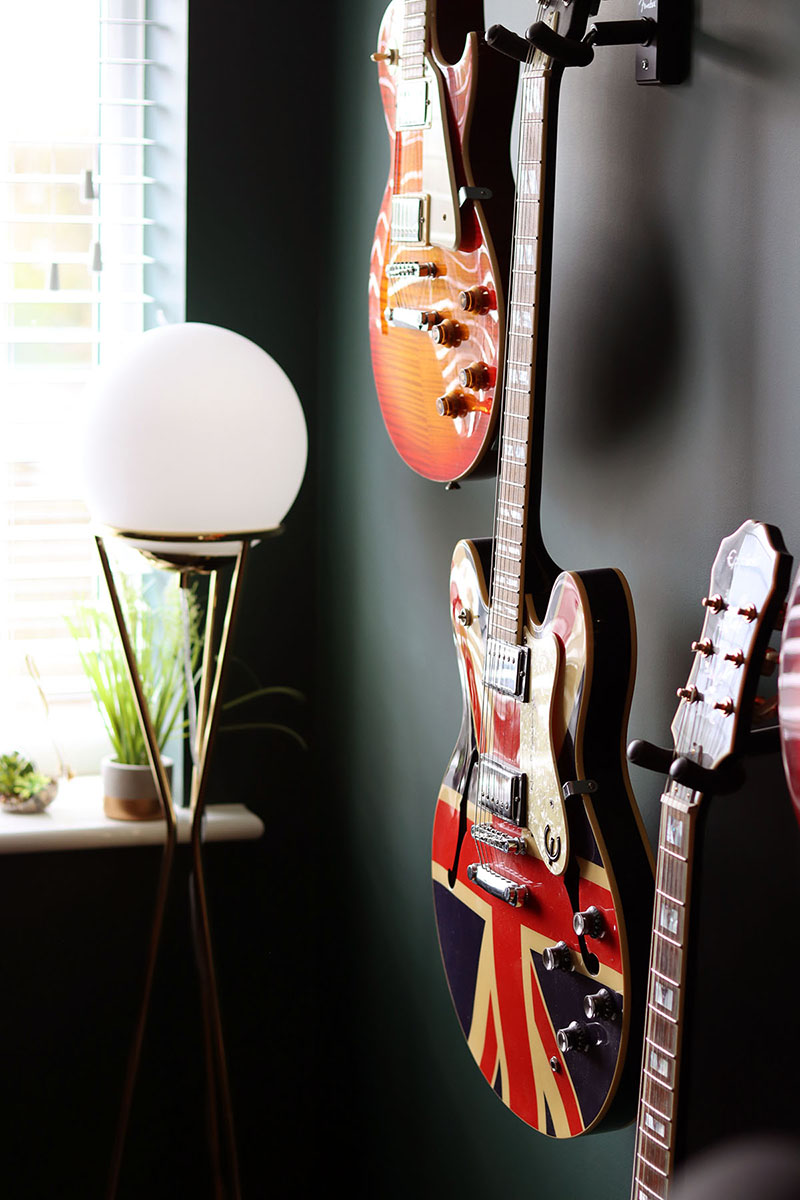 The rest of the home office doesn't contribute to my work set-up in terms of me needing it, but it does serve as a nice backdrop for video calls (my husband owns a lot of guitars as you can see – six to be precise), which is often a nice ice-breaker when talking to new people.
Overall, I'm happy with the office space and I'm looking forward to returning to work. It's not going to be easy, I'm aware, but I'm confident I have what I need in place to get through a day without my anxiety controlling me. Below are five key steps I've outlined for myself to focus on whenever I feel anxiety or stress creeping up on me throughout my workday:
Leave the room for 5-10 minutes.
I don't necessarily need to do anything during that time, but just sitting in another room or outside can help clear your mind.
Meditate.
Whether guided meditation via the Calm app or doing my own affirmations with meditation music on in the background, this will help to ease any stress and anxiety. I can even do this sat at my desk, but need to remember to mute my notifications to avoid being disrupted by emails.
Go for a walk.
Ensuring I get out the house daily is one of the key things I've told myself (and promised my husband) I'd try to do. I never did this before sick leave, but this time I'm doing everything in my power to avoid returning in auto-pilot mode. A walk will get me moving, help me clear my head, and give me a boost of serotonin to see me through the rest of the workday.
Do some yoga.
Yoga has helped me so much, and is a form of exercise I genuinely enjoy. Start every day with 20 minutes of yoga, but come back and do 10 minutes whenever I feel I need to recharge.
Drink plenty of water and eat.
Sounds obvious, but being home alone a lot and feeling like all I ever do is work made me forget to take care of myself such as eating a healthy lunch or getting myself a glass of water. Again, all comes back to being on auto-pilot. Hydration and eating well always boost my mood and avoid me feeling sluggish.