Anyone else have a love/hate relationship with their skin? I've always had skin concerns, but in the past I've not had the disposable income to try fancy treatments or new products which promise to rid me of all my skin insecurities. Several years on, and still suffering at the grand age of 27, I took the plunge to invest in my skin and it sure has paid off so far. Despite spending money on new products, my skin isn't truly hydrated, blemish-free, pore-less or naturally even. I've accepted that it never will be. But so long as I keep up with my current skincare routine, I'm sure it'll only get better. Here's hoping anyway!
Over the past 4 months I've found a sweet spot when it comes to my evening skincare routine. I know which products are currently working well for me, and I've noticed some big changes with my skin because of these. I haven't had to spend money on expensive skincare like La Mer, but instead have been able to go with high street brands that offer just as many benefits. Let's take a look at my must-have evening skincare products.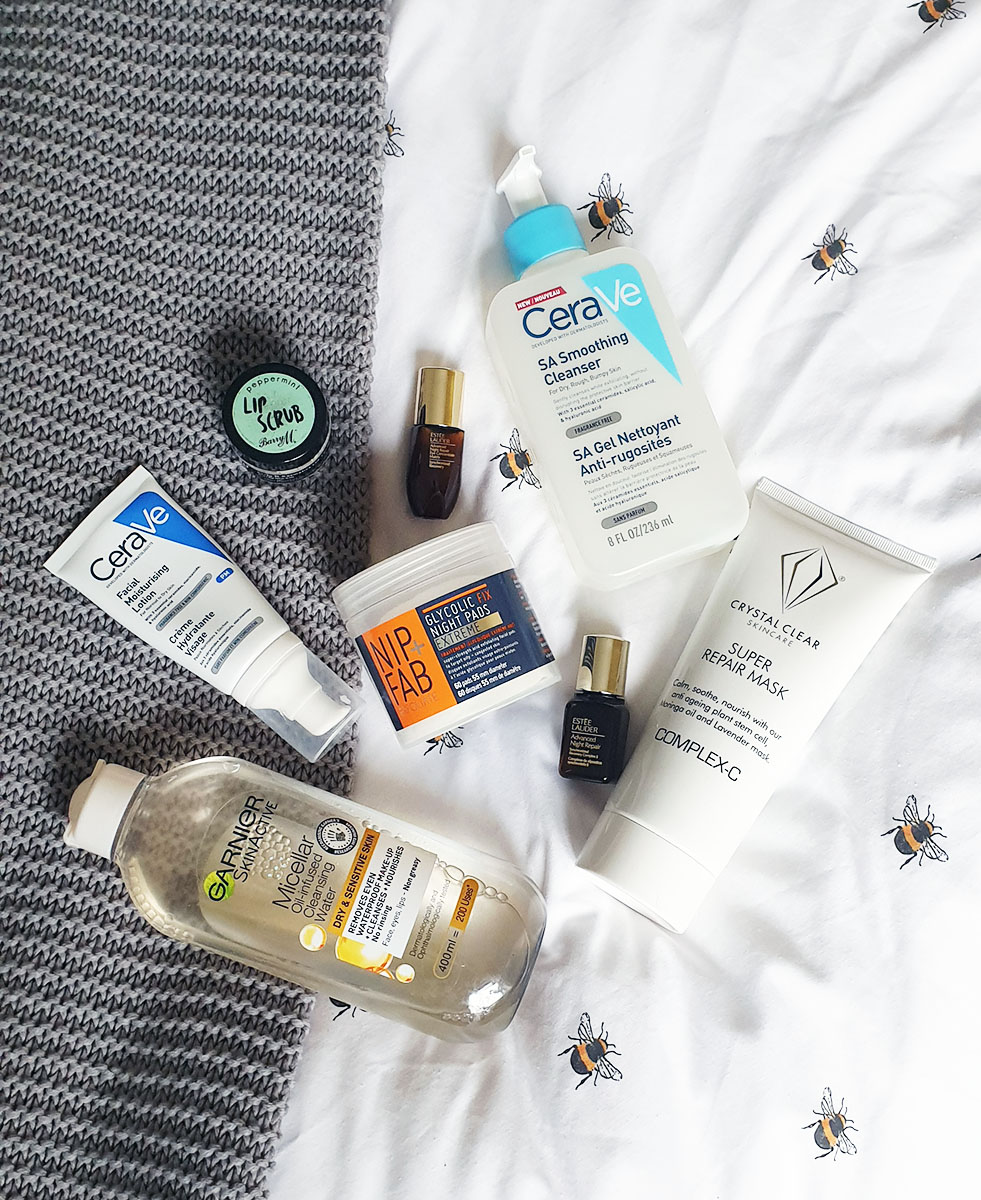 Step No.1
Garnier Micellar Oil-Infused Cleansing Water
The original 'pink one' as I call it, of the Garnier Micellar Cleansing Water range, completely dried out the skin under my eyes to the point where they were quite sore. My little sister bought this version and said it worked well for her dry skin, and I can agree it's MUCH better. It says 'grease free', but there's definitely a thin layer of oil left on the skin after use, but it feels hydrating more than anything.
Application: I put a couple drops on a cotton pad and use one pad per eye/eyebrow. I hold it down on my lashes for 10 seconds to try and lift the mascara off, before gently wiping everything away.
Step No.2
CeraVe SA Smoothing Cleanser
If you could find 'the one' with skincare products, then this is it. I've tried many cleansers over time, but nothing beats this. It's designed for dry and textured skin, aiming to hydrate it as well as smooth it. If I've worn makeup, I will always double-cleanse with this in the evening – that routine alone has made such a difference with breakouts. If I've gone make-up free, I tend to do one cleanse in the evening.
Application: I use two pumps per cleanse. I first lightly wet my face with water before taking the time to massage my face when cleansing – generally because it just feels nice! Then remove with a warm cloth – not scolding hot water, as this just dries the skin out more and also leaves it feeling sensitive. Then repeat for the second cleanse.
Shop My Evening Routine
Step No.3
Crystal Clear Super Repair Mask
Once a week I'll treat myself to a face mask. I used to use sheet masks, but I'll be honest, I don't like them. This is a thick clay-like mask which I tend to put on after cleansing before jumping in the shower. I leave it on for 10-15 minutes then rinse off with a warm cloth. Beware, if you have sensitive skin, this does tingle and sting slightly. It leaves my skin feeling sooo smooth afterwards.
Application: apply a thin layer all over the face, avoiding the eyes. Leave on for between 5-15 minutes then remove with a warm cloth.
Step No.4
Nip + Fab Glycolic Extreme Fix Night Pads
These are used to exfoliate your skin and are advised to be used once a week for sensitive skin, or 2-3 times a week for normal skin. Considering I have sensitive skin which reacts to the above mask, I've found I'm able to use this twice a week with no issues. If you have a slight breakout, I would avoid using the pad over that area as that will sting. You don't feel it exfoliating your skin as the pads aren't gritty like exfoliating scrubs, but you will notice the difference in your skin after a week or two of using these. There are 60 pads in the tub and considering I use this twice a week, this will last me 30 weeks – not bad!
Application: use one pad and wipe across half of your face. Flip the pad round and use this side to wipe across the other half of your face.
Step No.5
Barry M Lip Scrub, Peppermint
I do love a good lip scrub. My ultimate favourite is Lush's, but I refuse to pay delivery for a tiny tub. Barry M have a few flavours, but I opted for Peppermint as it's quite refreshing. As well as dry skin, I unfortunately suffer with dry lips, so a lip scrub is a must for me. Top tip, use this with a baby's toothbrush. I bought a cheap set for around £1 from Home Bargains and use this to scrub the lip scrub across my lips. The lip scrub is abrasive enough, but the toothbrush helps to move it across – I find I make more mess using my fingers.
Step No.6
Estée Lauder Advanced Night Repair Eye Synchronized Complex II
The Advanced Night Repair range by Estée Lauder is one of the best skincare ranges out there. Yes, it's expensive. Yes, you feel the need to cry every time you use a drop. BUT, it's one of those products that actually works, which makes spending the money worth it. I use a dab of this around each eye before bed. I'm currently working my way through a 5ml sample pot I got in a gift bag, but it genuinely is worth the money for the full-size bottle. It leaves the skin around your eyes hydrated and plump – not puffy.
Step No.7
Estée Lauder Advanced Night Repair Synchronized Complex II
This skincare routine is starting to sound expensive, right? But this is the face serum I use each night. I only use a peanut-size amount and smooth this over my skin and neck – do not neglect the neck people! I'm working my way through another sample pot as I had a few saved up from gifts bags I had at Christmas, but after purchasing the 50ml bottle a while back, that lasted me 6 months. Hopefully this gives you a good indication as to how long the product lasts.
Step No.8
CeraVe Facial Moisturising Lotion PM
CeraVe have an AM version of this with SPF 25 which is great as a day moisturiser, but the PM one is lighter in my opinion. After doing all the steps above, I finish off with a thin layer of this. By now my skin is looking very dewy and plump, with very minimal redness considering the amount of products I've worked my way through.
With my old – and very minimal may I add – evening skincare routine, I used to wake up in the morning and my skin would be dry, red and tight across the cheeks. With this routine, I'm waking up each morning with plump and barely red cheeks, soft skin and a slight glow.
Shop the post
What is your evening skincare routine?