I can't quite believe how fast it's gone since I went from Miss to Mrs! Since getting married, I've been inspired to write a series of posts dedicated to planning a wedding and useful guides for the next Bride-to-be to make use of. I'm certainly no expert, but I like to think I've learned a thing or two during the whole experience. For my first wedding-related post, I'm sharing my recommended wedding suppliers.
I want to share with you all the wedding suppliers we chose for our big day back in May 2019. This is everything from the venue and entertainment, to my chosen wedding dress boutique and hair stylist. Please bear in mind, I live in South Cheshire, so a few of these wedding suppliers are based in this area only. However, some wedding suppliers do cover a wider radius and are also nationwide, so be sure to check them all out!
Wedding Venue
We held our entire day at Crewe Hall in Cheshire. I honestly thought this place would be above and beyond our budget, but we were pleasantly surprised. We dealt with Emily and Alysse who headed up the banqueting team at Crewe Hall and they were both amazing. For our first viewing, we were greeted with a goodybag of chocolates, magazines, supplier recommendations, notepad and pen to jot down questions along the way, plus a couple other bits and bobs.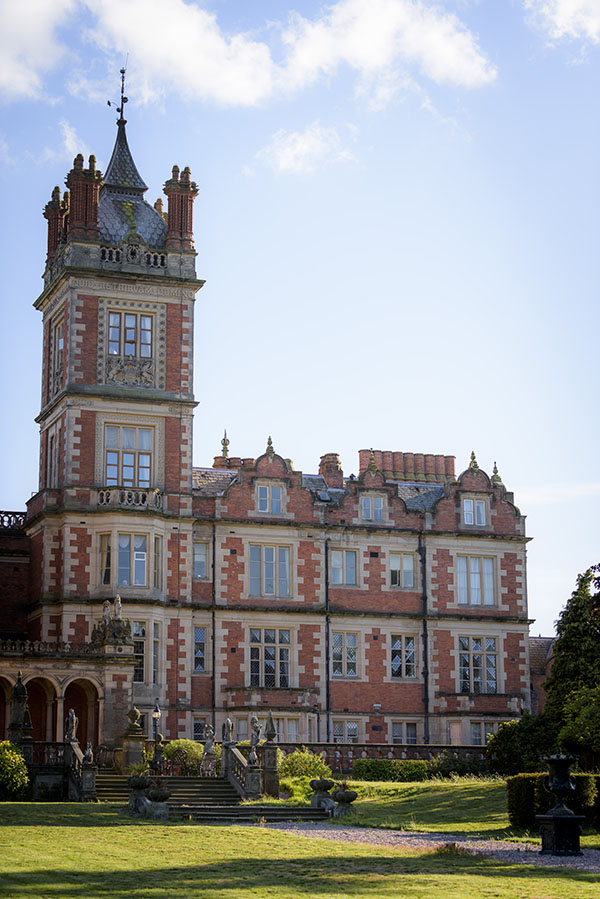 Wedding Photographer
We opted for Foster Photography. Crewe Hall highly recommended these to us, and their portfolio proves why. We decided to meet them at Crewe Hall to get to know them, talk through the day and view their portfolio in more detail and talk costs. They're a married couple who were so easy to talk to and knew exactly what they were doing. We hired both Beverley and Rachel (their daughter), then David did the video at our wedding too – an all-rounder team! Note: all images in this post are by Foster Photography from our big day.
Entertainment
Included in our package was Hipswing – an entertainment company who supply a DJ, but also allow you to hire funky dancefloors, uplighting, backdrops, photo booths and more. We went for the absolute basics with just a standard dancefloor and DJ. The best thing about them was they allowed us to put together a song list that we definitely wanted playing at the wedding, as well as the first dance of course. But, they also supplied our guests with a personalised login so they could request songs for the evening too. It was definitely amusing seeing what songs everyone was picking out!
We also opted for a String Quartet for the Ceremony and drinks reception, and these were Northern String Quartet. The DJ was just for the evening reception, but we wanted a String Quartet to play as the guests arrived, for my entrance, while we signed the register, the recession, then for guests as they had drinks and canapes while we were off having all our photos taken.
Wedding Cars
Another one of our wedding suppliers was Cheshire Lancashire Wedding Cars and they were so accommodating for what we wanted. We hired the Beauford 1930's Style Car and a Daimler State Limousine which picked my husband and his Best Man up and drove them to the venue, then came to pick me and my Bridal party up.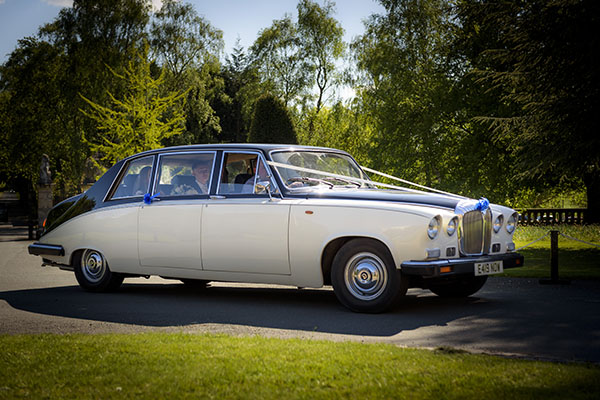 Wedding Cake
We went with a lovely lady called Paula at Creme de la Creme for our wedding cake and she did an amazing job! The whole consultation was brilliant – we were there for an hour talking her through our ideas, tasting samples of her cake and discussing cake stands. In the end we went for a 4-tier cake with a lot of detailed decoration with the following flavoured tiers: Victoria Sponge, Red Velvet, Butterscotch & Toffee and Almond & Amaretto – a favourite for many; was literally a boozy Bakewell Tart! We also chose her stunning cake stand which added some height so all guests could see from afar, but had a stunning chandelier of stones underneath.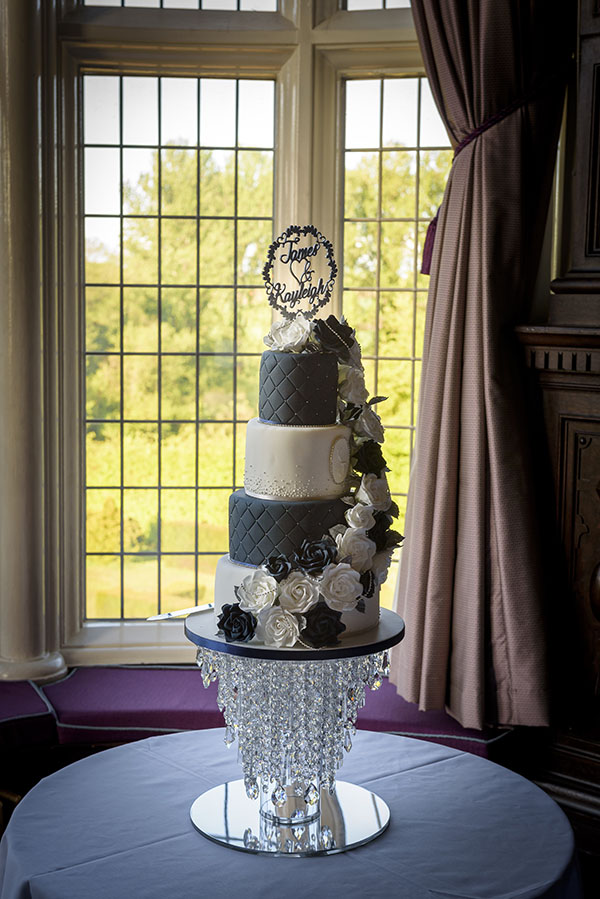 Flowers
We went with Ruth at Mayflower Bloom in Northwich. It was pretty simple in our eyes – I designed my bouquet, then we selected 8 buttonholes where Ruth shared her ideas on how we could make the Groom's buttonhole extra special. Then we opted for 11 rose vines which would be our decoration for the large 5-arm Candelabras we hired as our centrepieces. Out of all the florists I contacted for quotes, she was the only one who didn't charge crazy prices! We also hired our Sweet Cart via Mayflower Bloom. She built her own and hires it out for just £40. We then bought our own decorations, jars and sweets via wholesale sites to dress it with – this made it much cheaper than going with a company who specialise in this, plus it meant I could take all the leftover treats home!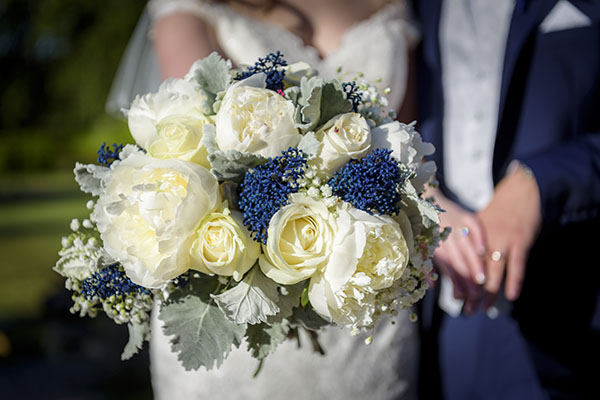 The Dress
The dress shopping is what took me by surprise. I've never been one to be fussed over this side of wedding planning, but because I'm not a dress wearer, I thought I'd find this part really difficult. Well, in fact, it took me a mere 2 hours to find the one. I visited Wed2B which is a nationwide bridal store that introduces new styles weekly – so you will be spoilt for choice, trust me! I went for a stunning fishtail style dress called Meryl and also chose one of their veils.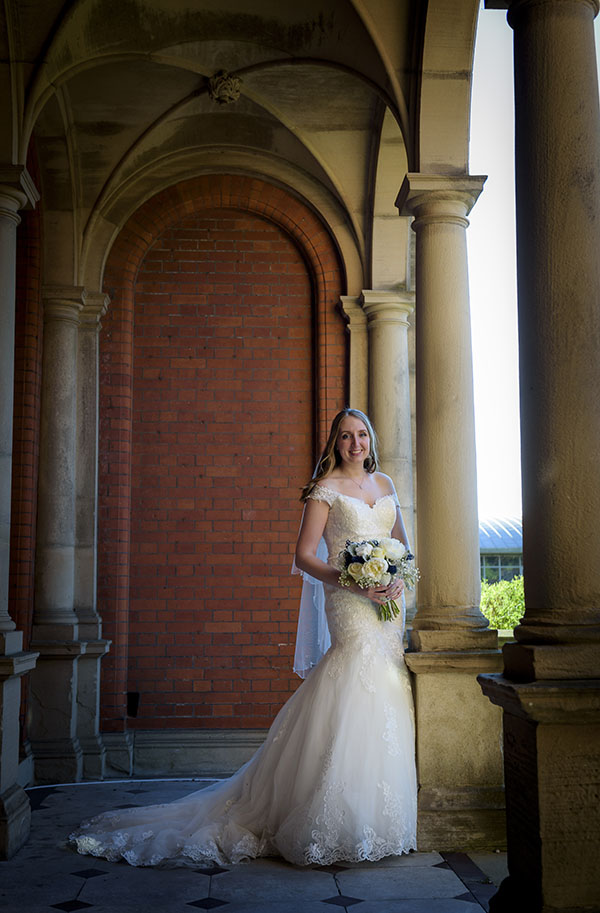 Dress Alterations
The only downfall to buying your dress from Wed2Be, is everything is off the hanger – therefore, you take the dress home that day and they don't do the alterations. Therefore, if any minor or big alterations do need making, you will be required to go elsewhere. Luckily, they provided a list of local ones and I went with their recommend one in Stoke-on-Trent called English Rose Couture on London Road. It's just a 3-minute drive from Stoke-on-Trent Train Station, so you can easily walk there from the station, or catch a quick taxi-ride.
The lovely lady who owns the boutique is called Sharon and she was brilliant, and reasonably priced. I went for my first fitting where I simply needed my straps shortening so they didn't fall down, as it was a slight off-shoulder design. She then recommended adding a hook to the train so I could hang it to the bottom of my fastenings when dancing and walking around, to make life easier on the night. She then invited me back for a second fitting to try it out with my actual wedding shoes, to ensure everything fit perfect. I went for one more fitting just 6 weeks before the wedding to ensure everything was perfect – and it was!
Wedding Shoes & Accessories
I bought my shoes off Debenhams and they were the Fantasy Ivory shoes by Paradox London. They were pricey at £70 (the most I've ever spent on a pair of shoes), but were so incredibly comfy considering you're on your feet for hours on your big day. As for accessories, I had my veil from Wed2Be and it was called Angel. I then had a diamond necklace as my 'something borrowed' from my Mum and my husband gifted me a pair of diamond Infinity earrings the day before our big day; this surprised me more than the proposal!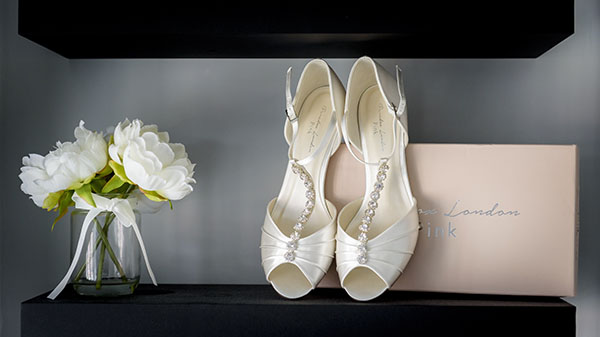 Grooms Party Suits
My husband opted to go to Platt's, a Tailor & Formal Wear store in Crewe, for him and his Grooms Party suits. He thought they were really good in all honesty, and that they offered him the best advice for what he wanted for his outfits. Plus, the price was very reasonable.
Wedding Rings
We went to a Wedding Fayre at Crewe Hall and came across a jewellery company called Smooch. They have no stores and operate by having multiple reps in each region who bring over 200 samples of wedding rings to your home. I loved this experience; far better than having to tackle the high streets on weekends. You can choose to go with their designs, or you can design your own. They also price match and offer a lifetime guarantee should a diamond fall out for example – a big win for us!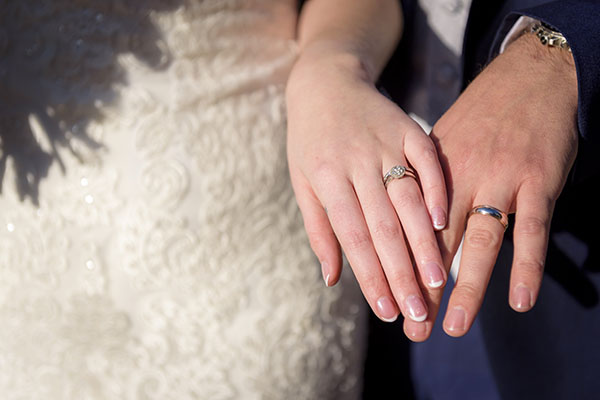 Hair Stylists
I went with a local hair salon; Blonde in Shavington, Cheshire. They were by far the most affordable for wedding hair in the area. I had Lucy and she came to my house to do all our hair for the big day, which saved us the stress of having to travel.
Beauty
I had individual eyelashes which were done by Millie at Headkase in Crewe. I then opted for my final course of Microdermabrasion, which is a facial I had done monthly during the build up to the wedding to get my skin in great condition. I've been having this done with an amazing woman called Hayley at Pretty & Pampered. Hayley also did my nails; I went for a French manicure, but with a touch of silver glitter to make them sparkle. As for makeup, we all did our own for the big day – we all knew what we liked, so it was better (and cheaper) and for us to just help one another!
Invitations
This was actually a really difficult choice, as there are so many options out there. In the end, we didn't opt for price, we opted for the perfect design. My husband chose the design in the end and we went with Pure Invitations. They give you all the options such as backing card colour, colour of the card which the text sits on, choice of additional inserts; RSVP, Information Card, Song Requests etc. then if your invites require it, whether you'd like them to assemble the invites ready for you or not. Of course, these all occur additional cost, but they were so lovely when they arrived – couldn't have been happier.
Wedding Favours
Who would've thought of Home Bargains as an option for wedding suppliers? We thought of the typical personalised chocolates/sweets or miniature alcohol for our wedding favours, but I found these so expensive. In the end we bought 108 mini jar candles called 'Wedding Day' from Home Bargains. These were identical to the small Yankee Candle jars, but at a fraction of the price at just 59p – literally a bargain! I then had two of my friends help me tie little 'Take me home" tags around them so guests knew they were theirs to take.
I would love to know which wedding suppliers you went with for your big day.