I remember having a diary as a kid. Not just any diary – an electronic diary. Good times. It had voice recognition and even had an 'invisible ink' pen that would only be visible with the little light it came with. Of course the voice recognition was shocking back in the early 2000's and anyone could use it. But that's not my point. The point is, a diary is great fun.
I always thought of my blog as some type of open-book diary, especially with my new Lockdown Diary series building up. But I wanted something more personal, which only I could look back on. That's when I found 5 year diaries were a thing. I found one on Not on the High Street, but refused to spend £20+ because I'm a tight arse. So I had a little search and found the exact same design on a site called Lisa Angel.
I got the small pocket-sized diary, as I didn't want anything too big. Plus I like the idea of having this tiny little book that holds 5 years worth of memories. But if you struggle to write in small spaces, there is a larger version too. The only flaw with the one I bought, was that the cover has clearly been glued on the wrong way round, as you open it and the pages are upside down – I wasn't fussed enough to return it, but if you're considering this as a gift, just bare that in mind.
So, let's get into the 5 reasons you should buy a 5 year diary!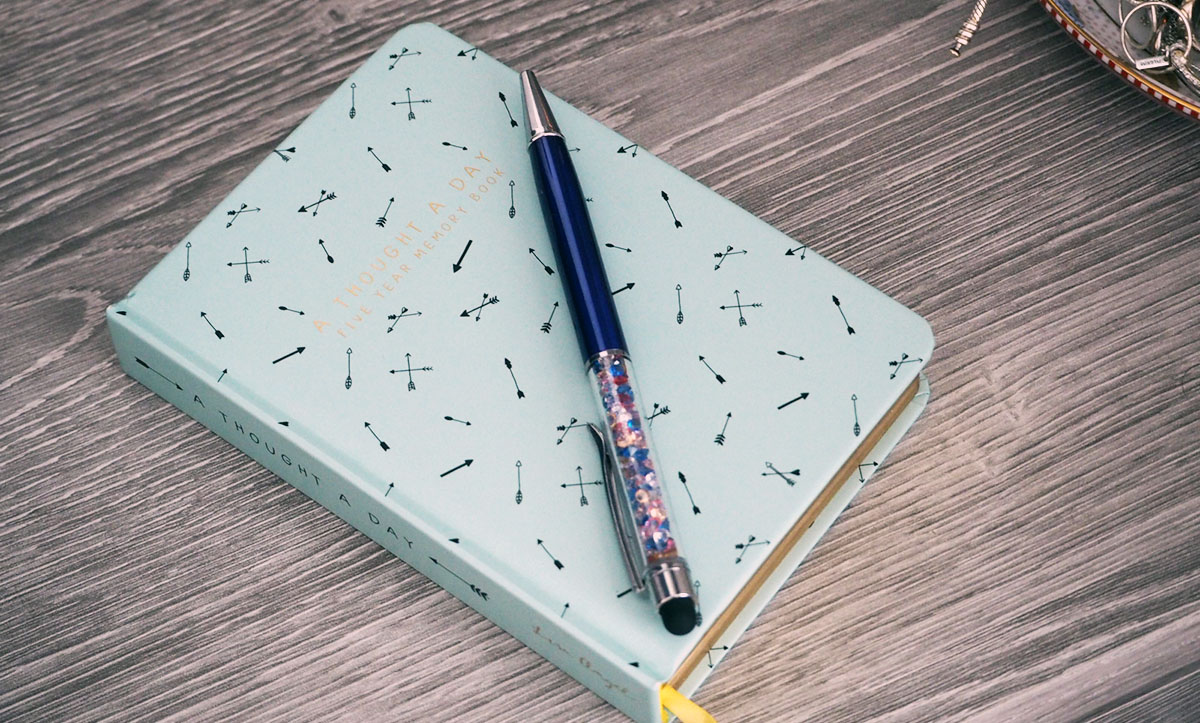 1. You won't forget the little things
It's not every day something big or exciting happens i.e. an anniversary, a wedding, a birthday, a new job, passed a test etc. But despite that, there's still those little things that happen each day that we can often take for granted and pass off as though it's nothing. This 5 year journal forces you to think of something that's happened that day, just a line or two, and note it down. This time next year you'll look back and smile at that memory you'd have otherwise forgotten, even if it did read, "my husband made the bed for the first time today". Like I said, it's the little things.
2. They're a lovely keepsake
If you don't want a five years diary for yourself and general day-to-day life, consider if for the likes of a new adventure or event in your life. Are you a new parent? Get a 5 year diary to document the daily changes of your baby as they go from being a new born to a 5 year old. Yes we have pictures and memories in our head, but I'm pretty sure you won't be able to remember 1,825 days worth of memories.
3. It's like therapy
This might sound odd to some, but during the global pandemic we're in due to coronavirus, my anxiety is through the roof. If I can't think of something nice or fun that happened that day, I can just use it to write my feelings and thoughts about the whole situation we're in. It may only be 2-3 lines, but it's the little things that help.
4. Improve your writing skills
Despite these style of diaries being designed for just a couple lines per day, it forces you to be more concise with your writing and to also be more descriptive so no day sounds like it's the same old thing – especially during the UK lockdown when it's your 10th week working from home and not leaving the house other than for medication or the food shop.
5. They're the perfect gift
If you don't want one for yourself, or perhaps already have one, these type of memory books are the perfect gift idea or stocking filler for Christmas.
Have you got a 5 year memory book?